It has been difficult to drown out the incessant noise surrounding Brexit in recent months, but in November that noise came to a crescendo as the negotiated deal was revealed. The government descended into turmoil as the Prime Minister resolutely defended her proposal.
Uncertainty remains rife, which makes for an unhappy environment for financial markets and investors. Sterling bore the brunt, reacting to every headline and falling almost 2 per cent relative to the US dollar as reports of cabinet resignations were released.
However, it is yet to reach the levels seen in the aftermath of the Brexit vote.
As sterling fell, longer-term inflation expectations rose to the highest level in almost 18 months, echoing the dynamic seen in June 2016. The UK stock market also saw its fair share of volatility as uncertainty clouded the prospects for domestically focused companies.
The high street banks, including Royal Bank of Scotland and Lloyds Bank, suffered alongside housebuilders, as the bellwethers of sentiment regarding the UK economy were punished.
However, four-fifths of the FTSE 100's earnings come from overseas.
For many international businesses that are listed in London, a fall in sterling translates into a rise in reported profitability.
Furthermore, sterling's weakness following the referendum has encouraged a range of suitors – both foreign and domestic – to drive merger and acquisition activity in the FTSE 100 to record levels in 2018.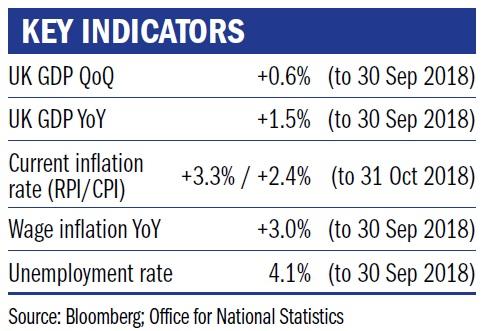 'On an even keel'
But, what of the underlying economy? The indicators point to a healthy employment rate, and growth continues to outstrip that of more recent years.
The Bank of England's latest inflation report explained that the UK economy is now past its peak Brexit inflation impact. That is to say, the inflationary effects that were felt due to sterling falling to a 31 year low in 2016 have abated somewhat.
The BoE is now forecasting inflation to be back to its target of 2 per cent by 2020, but that is very much predicated on a deal of some sort being agreed with the EU.
The same report gives the impression that the bank rate would be at least half a per cent higher if it were not for Brexit. Trying to predict where the deal negotiations go from here is fraught with danger but for the time being the UK economy remains on an even keel.
Jenny Renton is an investment manager at Ruffer
Ruffer LLP is a limited liability partnership, registered in England with registered number OC305288 authorised and regulated by the Financial Conduct Authority. The information contained in this article does not constitute investment advice or research and should not be used as the basis of any investment decision.
More on