Despite an increase in uncertainty, the world economy is strengthening and at a faster rate than anticipated, according to recent business surveys. Concerns about Brexit and President Trump's populist policies have been swept aside, prompting talk of a crisis in economic forecasting.
The Bank of England raised its projections for UK GDP growth in 2017 to 2.0 per cent (from 1.4 per cent in November), and expects growth of 1.6 per cent in 2018. Forecasts are likely to be upgraded further, but we still have doubts about the sustainability of the upswing, now that oil prices and inflation are rising.
The cost of a barrel of oil has doubled since this time last year, and CPI inflation has now reached 1.8 per cent, close to the Bank of England's target rate of 2 per cent. The main contributors to the increase in CPI were higher prices for motor fuels, and to a lesser extent food, partially offset by weaker clothing and footwear prices.
Inflation is likely to continue to rise while sterling remains weak (thereby importing higher prices), and will be fuelled further if meaningful wage growth emerges. The tone from the central bank has been "inflation-tolerant", meaning a rise in UK interest rates is likely to be some way off yet, with the market anticipating a rise in late 2018.
Resilient earnings
Analysts' earnings forecasts tend to start with a relatively optimistic picture, expecting around 10 per cent earnings growth. As the forecast year progresses, these tend to be downgraded, as has happened for each of the last four years. However, 2017 has seen economic fundamentals improve and many UK companies are benefiting from a weak domestic currency. As a result, earnings forecasts have been met and in some cases surpassed.
This has supported equity markets, with investors moving away from bonds as yields increase and prices come under pressure. Buoyant economic data has led to positive sentiment, which is also supportive of equities, although we're conscious that valuations are not cheap.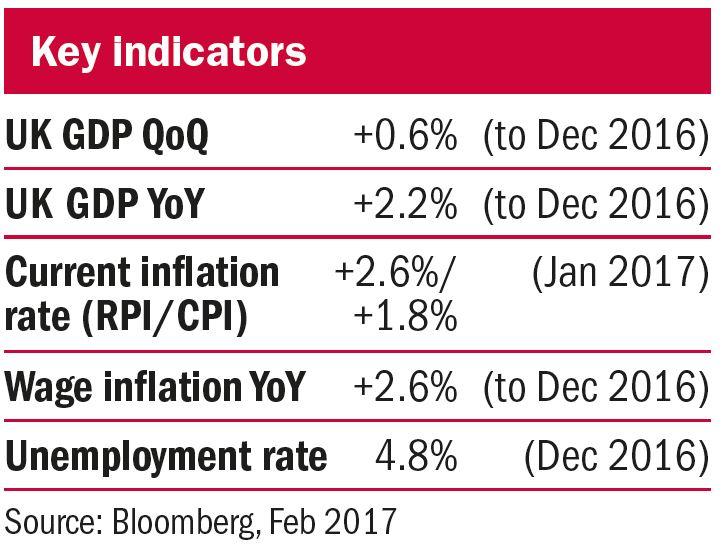 Emily Petersen is a portfolio manager at Cazenove Charities www.cazenovecharities.com
More on