Cazenove's Emily Petersen says the jury is still out on the post-referendum economic outlook for the UK's charitable investors.
Retail sales figures in the UK indicate that consumer spending has yet to be negatively affected by the referendum result. Furthermore, the third estimate for Q2 GDP revised growth upwards from +0.6 per cent QoQ to +0.7 per cent QoQ.
However, we continue to monitor the downturn in business confidence and expect a slowing in domestic business investment as a result of the upcoming negotiations with Europe. The wide range of UK growth and inflation forecasts for 2017 demonstrate the uncertain outlook. We anticipate a slowing in growth and increased inflationary pressures, driven by a weak sterling and stabilising commodity prices.
We expect monetary policy to remain accommodative and are likely to see increasing use of fiscal policy measures to support demand globally. The UK Chancellor has signalled a scaling back of austerity, abandoning commitments made by his predecessor. Theresa May has insinuated there may be an increase in expenditure in order to support domestic growth, and both US presidential candidates have discussed planned infrastructure programmes.
Political risk is elevated
The divorce settlement between the EU and Britain is just one of a number of political risks facing markets over the coming months. Theresa May's recent talk of a "hard Brexit" has had a clear detrimental effect on sterling. Relative to history the pound now looks oversold, but it is difficult to see a catalyst for any significant rerating in the short term.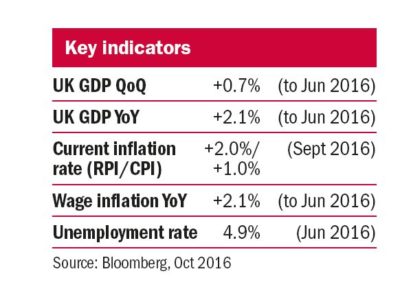 The US presidential election could be a source of volatility, with fiscal expansion and trade protection on the agenda. There are also a string of elections across Europe that could destabilise markets.
In the fourth quarter of this year the Italian Prime Minister has committed to a constitutional referendum and Angela Merkel will announce whether she intends to stand for re-election in Germany's 2017 ministerial elections. Dutch and French elections in the first half of next year will add to uncertainty in Europe and about Britain's exit negotiations.
Emily Petersen is a portfolio manager at Cazenove Charities. Civil Society would like to thank Cazenove for their support with this article.
More on