Emily Peterson looks at the potential impact of the new US president on investment.
Despite another political event unexpected by many, economic data has so far remained resilient. We continue to believe that it is too early to decipher the lasting economic implications, either positive or negative, of both Britain's referendum result and the new US president.
Recent data shows that UK unemployment has fallen to 4.8 per cent, the lowest level since May 2008, and regular wage growth has picked up to +2.4 per cent when compared to a year ago. The initial estimate for GDP in the third quarter of this year is +0.5 per cent, which is ahead of expectations but down from +0.7 per cent in the second quarter. UK inflation unexpectedly slowed slightly, with the most recent figure for annual CPI at +0.9 per cent. However, we believe this slowing is temporary and our expectations for inflation in the UK and in the US have increased for 2017.
Inflation in the US
Initially, it seems president-elect Trump will pursue policies that are perceived as pro-business. This, alongside expected increases in infrastructure spending, may boost short-term US growth and inflation. As a result, US bond yields have moved upwards with prices falling accordingly, while US equities have reacted positively.
Trump's policies on trade are less clear. His campaign insinuated protectionism, and the possibility of increasing tariffs could raise risks for the emerging markets, particularly those that are more export-led. This has resulted in weakness in such countries' currencies and equity markets. Global economic growth may be hampered by restrictions on free trade which raises the risk of a stagflationary scenario, in which low growth and higher inflation persist.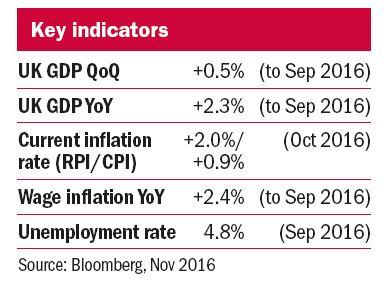 The change in inflation expectations, accelerated by the US election result, is likely to have marked an important turning point for bond markets, with yields now adjusting upwards and prices falling, in the UK as well as in the US. For charities that invest, it will be important to adopt a diversified strategy, and we would advise against too great an allocation to bonds.
Emily Petersen is a portfolio manager at Cazenove Charities www.cazenovecharities.com
More on