Cazenove's Emily Petersen looks at the economic outlook a few months after the Brexit vote and finds that it is "better than expected".
Despite the dramatic initial slowdown indicated by UK economic data in the immediate aftermath of the EU referendum result, more recent data paints a less bleak picture. So far, the vote appears to have shaken the confidence of both firms and households, but only corporate behaviour has actually been impacted. Despite consumer confidence dropping to its lowest level since June 2013, the volume of retail sales in July was much better than expected.
We continue to watch business and foreign direct investment carefully, as we expect these to be impacted by post referendum uncertainty, and have concerns that any sustained decline could eventually translate into lower employment and wages.
Policy divergence
The Bank of England, European Central Bank, People's Bank of China and Bank of Japan continue to favour easing monetary policy, and we expect to see further cuts in interest rates and continued quantitative easing this year. We wouldn't be surprised to see a further cut in UK interest rates to 0.1 per cent before the end of the year. Conversely, we expect the US to raise interest rates, although this is likely to be delayed until after the November presidential election.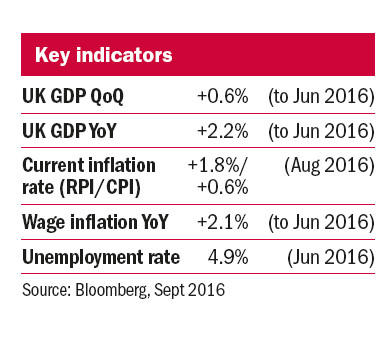 This divergence can in part explain the strength of the dollar compared to sterling. The recent fall in the pound is likely to cause a spike in UK inflation later this year and into 2017 as imported goods become more expensive, but we expect this to be a temporary effect which is unlikely to provoke a policy response. Indeed, CPI inflation has not changed this month and RPI inflation has fallen from 1.9 per cent to 1.8 per cent year on year.
Elsewhere, UK equity and bond markets have become more correlated. Since the EU referendum result, both asset classes have benefitted from the expectation that rates will be kept lower for longer, and that injections of liquidity will continue to support prices. Volatility has been low despite uncertainties around EU membership and the upcoming US presidential election.
Emily Petersen is a portfolio manager at Cazenove Charities www.cazenovecharities.com
More on