A key contributor to the decline in the haysmacintyre / Charity Finance 100 Index in the second quarter of 2018 is the 40 per cent fall in income reported by Care International UK for the financial year ending 30 June 2018.
The fall resulted largely from a 46 per cent fall in income from charitable activities to £43.7m, which reflected, according to the trustees, "the smaller size of the programme portfolio, compared to the previous year, and the timing of receipt of grant funding".
Care International UK chair Oliver Stocken describes 2018 as "a challenging year for securing new programme funding, particularly from our largest institutional donors – the European Union, due to its exclusion of UK NGOs even before Brexit, and DfID, as a result of delays or cancellations affecting several procurement decisions".
As a result, the international humanitarian charity is aiming to diversify its institutional funding sources and expand its corporate and individual supporter bases.
A recent positive development is the two-year partnership agreement with Heathrow Airport aimed at boosting the charity's online microfinance platform Lendwithcare. Launched in April 2010, Lendwithcare has provided loans worth over £20m to more than 95,000 entrepreneurs in 11 developing countries, with the aim of "enabling people to grow successful businesses and work their way out of poverty with dignity".
Donations collected at Heathrow, which totalled around £300,000 in 2017, will be loaned to entrepreneurs via Lendwithcare. Once the loan has been repaid, the donation will be reinvested in expanding the platform's reach.
Overall, more than half of the nine charities with year ends falling in this second quarter reported reductions in income, thereby contributing to the overall fall in the Charity 100 Index. Just four charities – WWF-UK, Mercy Corps Europe, Plan International UK and the Royal National Theatre – reported income rises.
The highest rise was at WWF-UK, which saw its income increase by 11 per cent to £68.2m. According to the trustees, the rise was attributable to a 30 per cent increase in legacy income, along with corporate partnerships with HSBC and Sky and lottery promotions via the People's Postcode Lottery.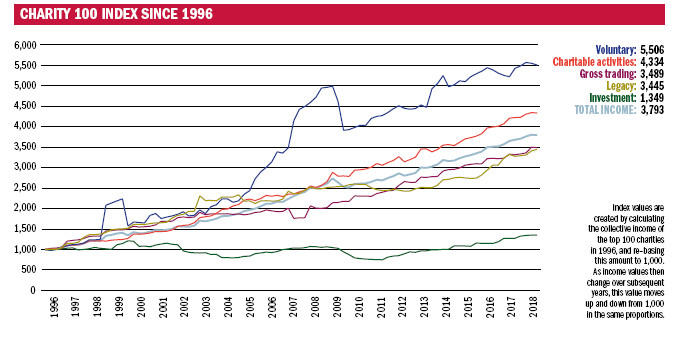 Medical research charities
The majority of charities with financial year ends falling in the third quarter have already filed their results, including top 10 Charity 100 member the Wellcome Trust. The global charitable foundation, dedicated to funding improvements in health, reported a 14 per cent increase in income to £484.8m in the year to 30 September 2018, largely as a result of a comparable increase in investment income to £439.4m.
It is one of 20 charities in the Charity 100 and Charity 250 Indexes that fund medical research. These range from Cancer Research UK, which has an annual income of £634.3m, to the National Centre for Young People with Epilepsy, whose annual income is £25.5m.
Most are members of the Association of Medical Research Charities (AMRC), whose 142 members spent £1.6bn on medical research in 2017. This equates to 47 per cent of all publicly funded medical research in the UK.
Medical research charities enjoy strong support from the British public. According to CAF's 2019 survey of UK Giving, medical research is one of the top three charitable causes, only marginally behind animal welfare and children and young people.
That said, there are clearly financial challenges. "Economic uncertainty has led to volatility in investment markets resulting in fluctuating valuations and income. This is particularly challenging for charities that need to draw down from their investment portfolios to fund their research programmes," says haysmacintyre director Steve Harper.
"Volatility in investment markets and a slowdown in the housing market also have the potential to depress legacy income," he adds.
Charities have had to adapt their fundraising practices to comply with new regulations to varying degrees. However, the real challenge, according to Harper, is "to create campaigns that supporters can personally relate to". A relatively new development in the medical research sector is celebrity endorsement, such as the recent fundraising efforts of supporters of Barbara Windsor for Alzheimer's charities.
Long-term partnerships with corporate organisations and philanthropists are also on the increase. At Cancer Research UK, for example, corporate partnerships with BT, HSBC, M&Co, Scottish Power, Tesco, TK Maxx and Ultra White-Collar Boxing raised £13.4m in 2017-18.
"Medical research is a collaborative sector and there have been a number of high profile mergers," says Harper. Recent high-profile examples include the merger in April of Breast Cancer Care and Breast Cancer Now, and the combination of Arthritis Research UK and Arthritis Care in November 2017 to form Versus Arthritis.

Index June 2019.pdf
More on