The top performing charity in this month's review of the haysmacintyre / Charity Finance 100 Index is Royal Botanic Gardens, Kew (RBG Kew), which reports a 43 per cent increase in income to £111.7m in the financial year ending 31 March 2018. The increase derives from a number of sources: grant in aid from the Department for Environment, Food & Rural Affairs (Defra) increased by 24 per cent to £40.8m, while grants and donations from other sources increased by 34 per cent to £31.2m and trading income increased by 15 per cent to £12.3m.
The most significant contributor to the increase, however, is the restructuring of the Foundation and Friends of the Royal Botanic Gardens, Kew (Kew Foundation), an independent charity established in 1900 to raise funds for RBG Kew.
On 1 July 2017, the majority of Kew Foundation's fundraising activity transferred into RBG Kew Enterprises, the wholly owned trading subsidiary of RBG, Kew. As well as transferring £4.4m of fundraising income and £3.4m of corporate membership income, the restructuring also resulted in a gain of £11m, reflecting the transfer of a 40 per cent share of the net assets of Kew Foundation to RBG Kew.
Conversely, the charity which reported the largest decrease in income in the period under review is Scope, which posted a 48 per cent fall in total income to £44.9m in the year to 31 March 2018. This excludes gains from asset sales, which are not recognised for the purposes of calculating the Index.
As in the case of RBG Kew, the decrease largely reflects the restructuring of Scope's activities. Described by Scope's chair Andrew McDonald as a "transformational year", 2017/18 saw the transfer of Scope's regulated and day services to private company Salutem Healthcare. The transfer, which took place in April 2018, involved 51 services (including three specialist schools, 38 care homes and ten day services) used by over 1,000 clients and around 1,300 staff.
The move is part of Scope's fiveyear Everyday Equality strategy, which aims to evolve the charity from a service provider to a social change organisation, campaigning for the rights of all disabled people. With the transfer of services that are primarily funded through local authority commissioning, Scope has become, according to its trustees, a "voluntaryfunded organisation".
Fee income fell from £39.8m to £0.3m in the year to 31 March 2018, while income from donations and legacies fell by 4 per cent to £17.1m and trading income fell by 1 per cent to £22.8m.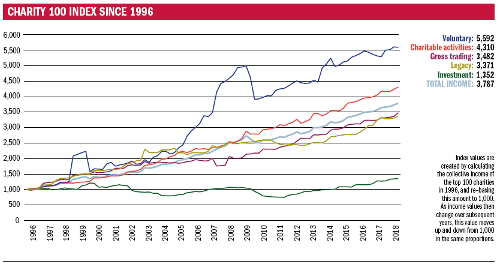 International charities
As the 29 March 2019 deadline for the UK's exit from the European Union under the terms of Article 50 fast approaches, it is timely to consider the likely impact of Brexit on charities which operate across borders.
Across the Charity 100 and Charity 250 Indexes, there are 42 UK-registered charities which have an explicit international remit. In terms of size they range from Oxfam with annual income of £417.3m to Goldman Sachs Gives (UK) with annual income of £22.7m.
Just over a quarter of international charities in the Indexes explicitly consider the challenges posed by Brexit in their annual report. Whilst this may seem low, it is clear that Brexit still has a significant bearing on broader issues listed such as access to funding and staff recruitment and retention. "It is the uncertainty around Brexit that makes it difficult for organisations to identify the UK's exit from the European Union as a risk in its own right and to be clear about their risk mitigation strategies," says haysmacintyre partner Murtaza Jessa.
Continued access to the estimated £260m pool of EU funding is of course a key concern. Some of the larger charities plan to retain access to EU funding sources via affiliates in EU states. Christian Aid, for example, is preparing to access EU funding via Christian Aid Ireland, whilst International Rescue Committee UK is planning to manage its Framework Partnership Agreement with ECHO from IRC's German office.
Other international charities in the Indexes are looking to set up affiliates in EU jurisdictions. These include International Medical Corps (UK), Mercy Corps Europe and Relief International, the latter of which is also looking at the possibility of forming an alliance with an existing European NGO.
Another Brexit-related issue highlighted by international charities in the Indexes is exchange rate risk. Since the EU Referendum in June 2016, many charities have felt the negative impact of the weak pound on overseas programme finances, which are usually pegged to the US dollar. "Large charities have generally managed currency risk quite well, whilst mid-sized charities have got a lot better at it over the last couple of years," comments Jessa.
A case in point is Sightsavers International, which approved a new treasury policy in October 2017. This involves cash flow forecasts prepared on a rolling three-month basis, rather than a rolling 12-month basis as in the previous policy, and greater use of currency brokers to support international transfers.
The UK government has sought to reassure charities that are worried about the loss of EU funding and the security of EU workers after Brexit but there are no grounds for complacency.
"Replacement funding from the UK government for EU funded programmes is likely to come in the form of contract income, rather than grants, with tax and VAT implications," says Jessa. "This means that charities that are not registered for VAT will be less well placed than commercial companies to take advantage of it.
"Similarly, the UK government's decision to let EU nationals working in the UK apply to stay will not help meet future staff needs when existing staff move on to new jobs."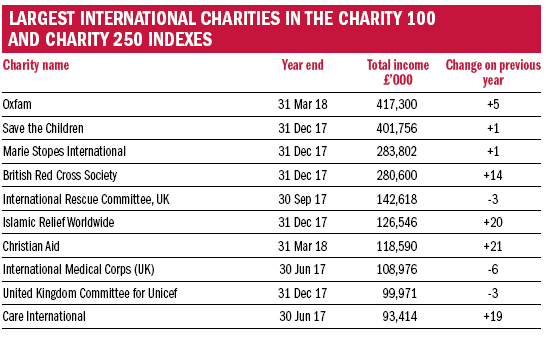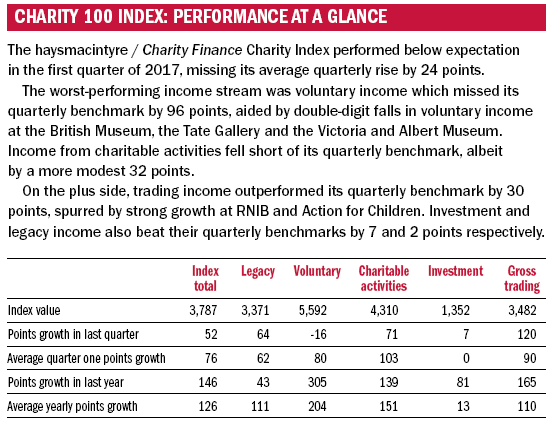 Download the haysmacintyre / Charity Finance 100 Index for full tables (pdf)
More on