The two top performing charities in this month's review of the haysmacintyre / Charity Finance 100 Index are both educational charities. The Woodard Corporation, which acts as the holding company for a group of faith-based independent and academy schools, reported a 16 per cent increase in income to £201.9m in the year to 31 August 2017, while Eton College reported a comparable rise in income to £79.9m in the same year.
The Woodard Corporation owes the bulk of this increase to the April 2017 acquisition of Polam Hall School and the lands and buildings of St Augustine Academy, which added £21.4m to its statement of financial activities.
Eton College owes most of its increase to a 119 per cent rise in investment income to £17.7m. According to the trustees: "The College operates its investment portfolio on a total return basis, so the investment income can vary greatly year on year and is difficult to predict. 2017 was an exceptional year for income because one of the private debt funds in which the College is invested realised significant gains, which it returned in the form of distributions which are classed as income."
As both establishments have derived these increases in income from exceptional gains, it would be unwise to regard them as typical of the schools sector as a whole, which will be reviewed in next month's article.
Comic relief
At first glance Charity Projects, better known as Comic Relief, also performed well, reporting a 14 per cent increase in income to £104.7m in the year to 31 July 2017. However, the biennial nature of the charity's activities means that comparisons between alternate years are probably a more meaningful guide to performance than straightforward year-on-year comparisons.
Comic Relief organises two fundraising events which take place alternate years: Red Nose Day, which raised £82.1m in 2017, and Sport Relief, which raised £72.5m in 2016. The fundraising total for Red Nose Day in 2017 is 17 per cent lower than the £99.4m raised by the same event in 2015, though increases in trading and investment income over the same period mean that the fall in total income is lower at 9 per cent.
Whilst conceding that the fundraising total is down, Comic Relief trustees describe Red Nose Day 2017 as "our most digital campaign to date, with new initiatives driving awareness around the causes we support and attracting a new audience".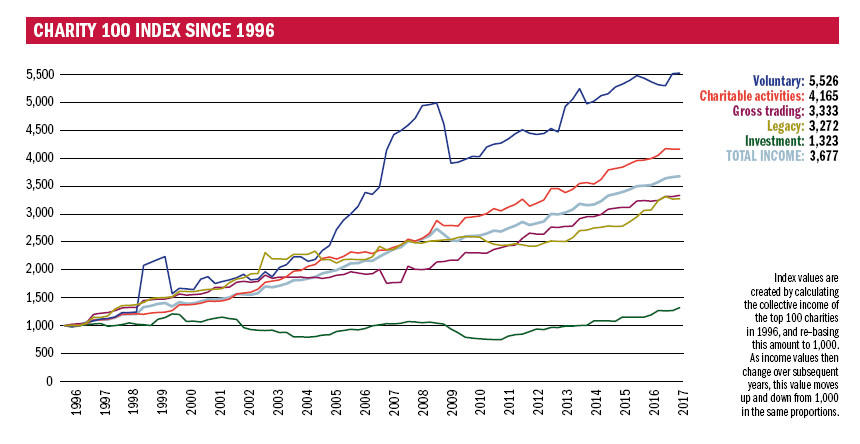 Social care charities
Looking ahead, around half of the charities with financial year ends falling in the fourth quarter have filed their accounts, and these are included in the table overleaf. The list also includes Action for Children and Mencap, which have both recently filed their results for the year ending 31 March 2018.
Action for Children and Mencap are two of around 100 charities across the Charity 100 and Charity 250 Indexes that are engaged – at least in part – in the provision of social care services. In terms of size, they range from The Salvation Army with annual income of £374m to The Adolescent and Children's Trust with annual income of £21.8m in the year to 31 March 2017.
The Social Care Institute for Excellence (SCIE) defines social care as "the provision of social work, personal care, protection or social support services to children in need or at risk and their families/ carers, and adults at risk or with needs arising from illness, disability, old age or poverty and their families/carers". And according to the National Institute for Social Work, "social care covers a broad age range of people, including the elderly, disabled individuals, people requiring mental health services, individuals with learning disabilities, children, families and young people".
As well as being a large sector with strong representation in the Indexes, it is also a very diverse sector in terms of beneficiaries, types of care and income streams. Social care organisations represented in the Indexes include fundraising charities such as Macmillan Cancer Support and Guide Dogs for the Blind, which derive the vast majority of their income from voluntary sources and legacies. They also include the likes of MHA and Leonard Cheshire Disability, which derive the vast majority of their income from charitable activities in the form of grants and fees for services contracted by central and local government. And also present, though less common, are charities like Sue Ryder and Age UK, which derive a substantial chunk of their income from trading activities.
Taking the 30 social care charities in the Charity 100 Index as a composite, charitable activities account for 66 per cent of total income, followed by voluntary income at 16 per cent, trading income at 9 per cent, legacies at 8 per cent and investment income at just 1 per cent.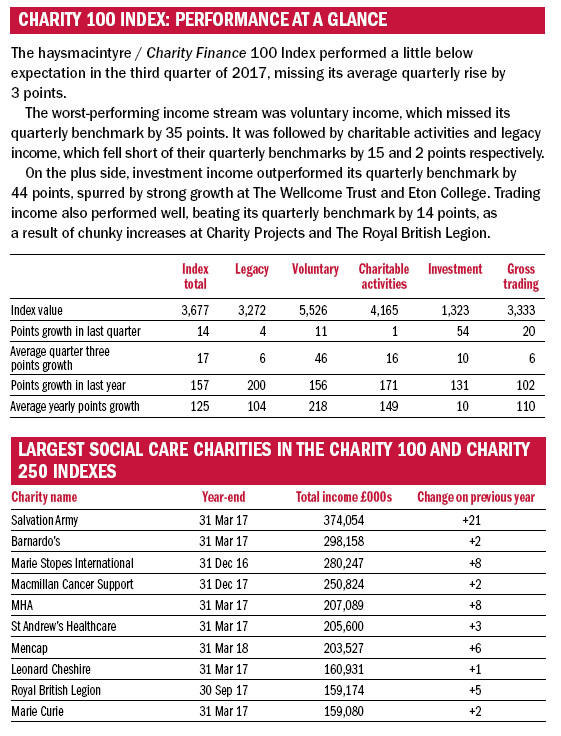 Arguably the biggest threat to charities that are heavily reliant on contract income is the pressure on government funding, which has intensified over the last ten years following the 2008 financial crisis. Action for Children's recently filed set of accounts provides a timely illustration of this. Chair John O'Brien comments: "Austerity continues to bite as we have seen with the closure of 128 children's centres across England in the past year and, with less money available to local authorities, we are having to compete very hard for the funding that comes our way."
As a result of a "number of local authorities ceasing to fund children's centres", the charity has experienced a fall of £13.8m or 38 per cent in children's centre income, which has contributed to a 12 per cent fall in income from charitable activities.
Offsetting this is a 111 per cent increase in trading income to £14.6m and a 15 per cent increase in investment income to £1.1m, resulting in a 6 per cent fall in total income to £150.1m in the year to 31 March 2018. O'Brien says: "With less local authority funding available, we are undertaking new ventures – looking at different revenue streams and different ways of engaging partners and supporters – so that we can continue to provide the services that we know to be essential in helping the children, young people and families we work with."
Richard Weaver, head of charities and not-for-profit at the accountancy firm haysmacintyre, comments: "Charities working in the social care sector are increasingly facing the moral dilemma of whether to subsidise services that should be state funded with other sources of income. The absence of a common approach to funding social care services can also add a costly administrative burden, particularly when a charity is dealing with a number of local authorities that have different policies and tariffs for what is essentially the same service."
According to Weaver, the biggest threat to the social care charity sector as a whole is managing reputational risk. "This is a given for fundraising charities that rely on public goodwill. However, we are increasingly seeing statutory funders threatening to refuse or withdraw funding from charities that fail to report serious incidents or safeguarding issues.
"There is a risk that charities will err on the side of caution and start reporting everything. Charities that work in sectors that are prone to incidents needs more guidance from the Charity Commission on what constitutes a serious incident and what is required."
More on