As the century that was 2020 is drawing to a close, charities and fundraisers across the UK have been working for months on a last big push to deliver their Christmas campaigns.
With coronavirus restrictions still tight in most of the country, this was always going to be a different Christmas, and charities focused on direct marketing and digital campaigns to try and make up for the income loss from events fundraising.
We've probably never been so in need of jolly Christmas content, so we've put together a selection of some of the very merriest charity digital campaigns.
Digital Christmas concerts
Live-streamed Christmas concerts have become a bit of a thing this year. Animal charity Battersea Dogs & Cats Home is hosting a free one tonight on its Facebook page, hosted by comedian Sue Perkins.
There will be carols singed by a choir, heart-warming animal stories, and an online fundraising auction. Viewers are invited to sing along from their sofas and donate to support the charity if they can, via Facebook or text message.
Claire Horton CBE, chief executive of Battersea, said: "After what's been a difficult year, it's time for animal lovers across Britain to warm up their vocal cords as well as their mince pies, settle down on the sofa, and get ready to tune in and sing out loud.
"Even those who consider their vocal styling to be more 'howler' than 'cat's whiskers'; we want all corners of Britain to join Battersea for what promises to be a very magical night. This Christmas, let's raise our voices to honour rescue animals everywhere that don't have a voice of their own."
WaterAid and Barnardos are also among the charities that have held online Christmas concerts, and the Lord Mayor of the City of London had a charity carol service in support of four local charities.
Last Christmas…
Great Ormond Street Hospital Children (GOSH) Charity went out with a big, moving Christmas campaign called Home for Christmas, with an animated video about getting hospitalised children home in time for the festivities.
But on its social media it also opted for a bit of silly fun and launched its #Whamageddon challenge. All you have to do to take part is do your very best to avoid hearing Wham's infamous Christmas song "Last Christmas".
Once you do, you have been whammed and you are out: time to make a donation to the charity and share it on social media under the hashtag #Whamageddon.
You have time until 25 December, although you might need to go hide in a bunker without tv or radio to last until then.
#Whamageddon has begun.

This year, play to raise money for @GreatOrmondSt. If you get #Whammed, make a donation at https://t.co/WXqoNvIw5n and we'll give it to someone special.

Rules below 👇 RT if you're playing 🏘️🎄 pic.twitter.com/EtIYeJX4MM

— GOSHCharity (@GOSHCharity) December 1, 2020
Donate your Christmas party
Another campaign that's proving quite popular this Christmas is asking people to donate the cost of the Christmas party they can't hold because of coronavirus to charity.
Its most organised version is Xmas Party Heroes, which focuses on office Christmas parties, asking businesses and corporates to donate the money they would have spent on Christmas fun and food for staff. The campaign has its own website and has raised more than £1.3m so far.
It says: "Join many other businesses in making a BIG difference to a LOT of people's lives this Xmas. Donate the unused cost of your Xmas party to a charity of your choice. You and all your staff can become instant #XmasPartyHeroes."
Businesses can donate to any charity, but organisers also have a list of 350 charity partners, including St John Ambulance, the Trussell Trust, Shelter and Parkinsons UK.
Let's see if we can get more than £5m before Xmas!
Just donate your unused Xmas staff party budget to #charity this month and let everyone know you are #XmasPartyHeroes https://t.co/WK9yOU8lxQ pic.twitter.com/CTIGRKKMqi

— Xmas Party Heroes (@XmasPartyHeroes) December 7, 2020
The greenest Christmas Jumper Day yet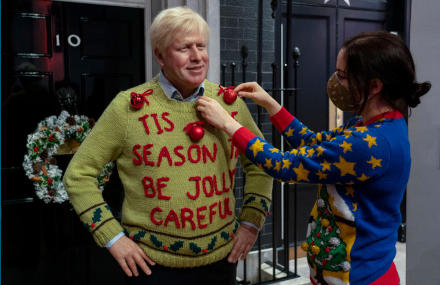 Christmas Jumper Day (on 11 December this year) is a fundraising campaign that Save the Children has been holding in schools and workplaces for nine years, raising more than £25m since its start.
The charity had to reinvent it quite a bit this year, and delivered a virtual version of the event with a programme of remote activities, including a morning energiser by Mr Motivator, a quiz with Jon Snow and a Christmas Jumper Day playlist by Fleur East.
Save the Children also aimed to "create the most sustainable Christmas Jumper Day yet" by asking participants to make their own jumper, buy it from a charity shop or borrow it, rather than buying anything new.
Some 12,000 schools took part. Right before launch, the charity said: "Save the Children is expecting virtual calls to be taken over by jumpers festooned with jingle bells, twinkling lights and sparkles galore; children ditching their school uniforms in favour of their daftest winter woollies and dogs rocking last year's tinsel as the nation gets involved in the ninth Christmas Jumper Day."
Other highlights included the statue of Boris Johnson at Madame Tussauds in London redressed in a Christmas jumper (pictured above), as well as hundreds of dogs from dog sharing platform Borrow My Doggy taking part.
Christmas party game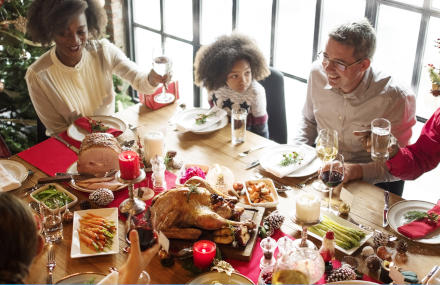 Hearing loss charity RNID combined campaigning and fundraising with the launch of its Christmas dinner party game.
It's a Christmas game for families that is inclusive of people with hearing loss. It's meant to draw attention towards the "Dinner Table Syndrome", a phenomenon in which deaf people or people with hearing loss are left out of conversations.
The charity said: "One in five people in the UK has hearing loss, so it's likely that someone at your dinner table this Christmas could find it difficult to follow the conversation, especially if it's loud and several people are talking at once.
"It's impossible to lipread more than one person at a time and trying to keep up can be really draining. The game draws attention to these challenges, encouraging everyone at the dinner table to be mindful of how they communicate with others – all while having some festive fun."
The game can be ordered from the charity's website in exchange for a donation.
Paul Hayward, head of public fundraising at RNID, said: "Our Christmas dinner party game is a great alternative to the quizzes so many of us have taken part in as we have spent time at home throughout 2020.
"As well as enjoying the fun activities, we hope people will think about how they communicate with others and be deaf aware. By ordering one of our Christmas dinner party games, people will be supporting our work to make life fully inclusive for deaf people and those with hearing loss or tinnitus."
Fundraising Magazine
is a practical and inspiring magazine that provides fundraising professionals with the tools to unlock new revenue streams, yield better results from campaigns and boost donor income. Subscribe today to receive 10 issues per year and access to premium fundraising content on civilsociety.co.uk.
Find more information here and subscribe today!