RNID has unveiled a new logo and visual identity as it continues the process of returning to the brand name it last used in 2011.
The charity announced last month that it would once again be calling itself RNID, having operated as Action on Hearing Loss for nine years. It said that research found its original name was "much loved, preferred and better recognised".
As well as a new logo, the visual identity introduces a new colour palette, fonts, illustrations and photography. It was designed by the branding agency SomeOne, in collaboration with brand consultant Dan Dufour and the charity's in-house design team.
Cheryl Hughes, the charity's head of brand, said: "The new brand identity is focused on positivity and aims to show supporters that the charity is united, creative and want change. The logo incorporates a 'smiley D' to reinforce our positivity and to celebrate diversity."
She added: "We might be over a century old, but it doesn't mean we're stuffy and formal; in fact, quite the opposite. We want to show people that we are dynamic and responsive and inspire the belief that together we can create a fully inclusive society."
New colour palette
The new colour palette incorporates "RNID green", neon green and white, while a secondary palette allows for tonal changes from bright green, pink and blue to midnight blue, blush and cream.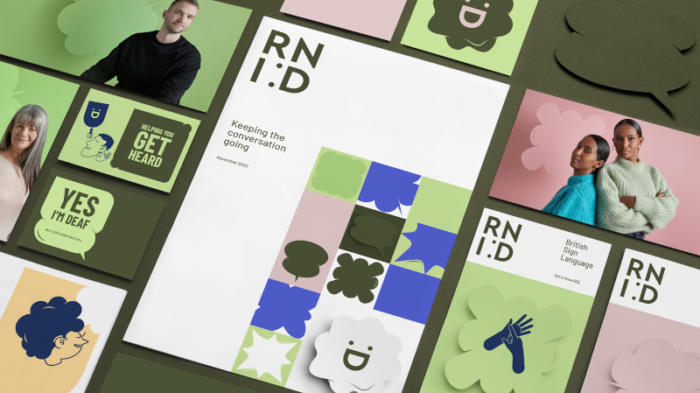 The new fonts are Barlow and Manrope, and were selected after testing with audiences.
New photography and illustrations are designed to reflect the full range of people supported by the charity, including those with cochlear implants and hearing aids.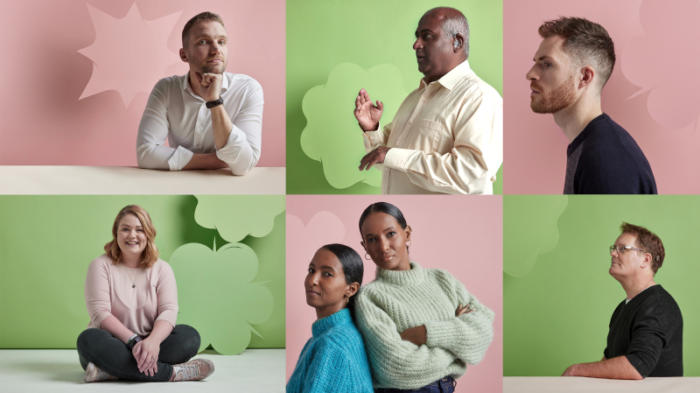 Hughes said: "Our focus throughout this project has been to make us a strong, modern brand with a recognisable identity that makes us more relevant and allows us to reach more people.
"Strengthening our brand is vital for us to deliver our fundamental purpose and make an even bigger difference to the one in five adults in the UK who are deaf or have hearing loss and the one in eight adults, like me, who have tinnitus."
Tone of voice
The charity has also developed new "tone of voice" guidelines. It will be publishing these on its website and inviting deaf people to comment and help improve them.
The new tone of voice is intended to be "more conversational, impactful and less formal", and will use "plain English to communicate with communities, rather than for them".
Michael Wilkinson, digital director at RNID, said: "Culture and language is constantly evolving and we want to make sure we reflect that in the way we speak as a brand."
The new brand cost £69,000 overall, and will be gradually rolled out over the coming year.
RNID has produced a video setting out its aims: