As the Canal and River Trust officially launches, the charity's first patron, the Prince of Wales has paid homage to the role of volunteers in inspiring others to "breathe new life into their local waterways".
In an address to camera, Prince Charles recollects when he was a volunteer, some 40 years ago, helping to revitalise seven miles of the Montgomery Canal. The job was made possible by collaboration between local waterways groups, the Waterways Trust he was then a patron of, and the passionate volunteers, he said.
"I should particularly like to pay tribute on this occasion to the efforts of hundreds of volunteers up and down the country," said the heir to the throne.
"When I was patron of the Waterways Trust in England and Wales it was a great joy to meet so many of the volunteers staff and enthusiasts whose passion and commitment to keeping our waterways alive have made canals what they are today. It is people like these who are inspiring others in their communities to breathe new life into their local waterway," he added.
Prince Charles' support for the new charity - which following a soft launch last earlier this month, takes over from British Waterways, launches officially today with a number of local events throughout the country - is echoed by a number of celebrities. The Trust has launched a new 'friends' initiative to show the level of support felt by some of the nation's great minds and talents.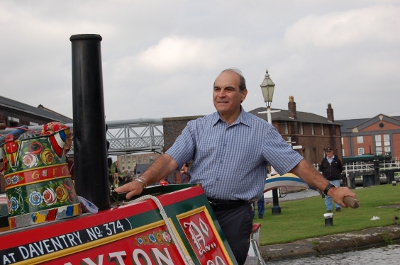 Among supporters are David Suchet, famed for his role as detective Hercule Poirot, and journalist and TV presenter John Craven.
Craven said: "Over the years I have explored many canals. I grew up visiting the Five Rise flight of locks at Bingley on the Leeds & Liverpool Canal and taking a narrowboat across Pontcysyllte Aqueduct left me lost for words.
"As a Friend of the Canal and River Trust I am helping to ensure that more people can explore, experience and enjoy our waterways just as I have, for many years to come."
The Canal and River Trust takes over from former quango British Waterways in the biggest transfer of responsibility from the public sector to a charity. It is now responsible for 2,000 miles of waterways throughout England and Wales and will be supported by over £1bn investment from the government over the next 15 years.