Chair of the Institute of Fundraising, Mark Astarita, has accused William Shawcross, chair of the Charity Commission of "undermining giving to Syria", after Saturday's Daily Telegraph quoted Shawcross saying some money donated to Syria "undoubtedly" went to extremist groups.
And today the Charity Commission distanced itself from the piece, saying Shawcross' comments have been taken out of context.

In a front-page splash on Saturday morning, the Telegraph led with quotes from Shawcross on charity money and extremist groups, with the headline "Charity millions 'going to Syrian terror groups'".
The story said that the Charity Commission has warned that people giving to help refugees from the civil war in Syria were inadvertently supporting terrorism. And it quoted Shawcross saying: "A lot of money is raised that goes to Syria, some of it undoubtedly goes to extremist groups…..It is very hard for all organisations to determine that."

Soon after the story broke, Astarita, who is also director of fundraising at international development charity the British Red Cross, tweeted:


A number of fundraising directors responded to Astarita: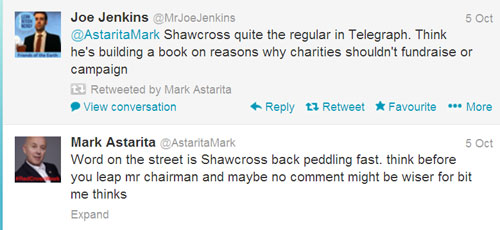 The journalist who wrote the piece, Christopher Hope, is the Telegraph's senior political correspondent who also wrote the Telegraph's controversial charity pay story criticising international development charities for paying staff over £100,000. In that story, Hope quoted Shawcross as saying: "Disproportionate salaries risk bringing organisations and the wider charitable world into disrepute."

At last month's Charity Commission annual general meeting Hope reignited the issue, asking Shawcross if it was right that some charity chief executives were paid more than the Prime Minister.

Shawcross said it was for trustees to decide pay in charities, but added that the public reaction to the Telegraph's coverage on the matter bore out that it was an issue for the public. He also introduced Hope as a respected journalist and thanked him for the question.
Charity Commission: Shawcross comments taken out of context
The Charity Commission today distanced itself from this weekend's Telegraph story on giving to Syria. A spokeswoman said that Hope had taken comments that Shawcross made at the Commission AGM out of context. In a statement on the regulator's website, Shawcross said:

"The Daily Telegraph's suggestion that 'millions' are being diverted from well-known charities to fund terror groups is speculative and certainly does not represent what we know. Such allegations risk undermining the efforts made by charities to alleviate the suffering of vulnerable people in areas like Syria.

"I hope that people will continue giving to charities working in the UK and around the world with their usual generosity. I can reassure donors that known cases of terrorist abuse of charity funds are very low and that we will vigorously pursue any such allegations."

International development charities reacted strongly to the piece, with the Disasters Emergency Committee (DEC) saying it was appalled at the coverage.

DEC chief executive Saleh Saeed said: "We are truly appalled that this story could mislead the British public who have been so generous in supporting our appeal and concerned that it may place the lives of aid workers in Syria at risk."

A spokesman added: "The Daily Telegraph's front-page headline 'Charity millions going to Syrian terror groups' is simply untrue. There is no evidence that any funds from the £20m DEC Syria Crisis Appeal have been used to support armed groups in Syria.

"The Charity Commission has not suggested to the DEC that it has specific concerns regarding the diversion of funds we have raised. In fact, the DEC worked with the Commission to draft guidelines for charities to help them avoid funds they raise for aid to Syria being misused."
Last month, the Charity Commission issued guidance for charities working in areas where terrorists operate.
More on