Emily Petersen predicts a period of investment growth for 2017.
Analysts' expectations for global growth in 2017 have been upgraded. This has been led by a more optimistic view on the UK, where the Brexit effect has been smaller than expected, and by the US, where fiscal loosening is anticipated to provide a boost this year and next.
Inflationary pressure is rising globally, with the UK posting its highest CPI growth in two-and-ahalf years. Sterling weakness, a higher oil price, lower unemployment and subsequent wage inflation are all contributors.
The decisions and progress of the Trump administration will be critical for markets this year. We are expecting fiscal packages to generate a boost to US GDP, but assume a scaling back of the plans currently articulated by President Trump, as Congress attempts to create deficitneutral tax reform.
Elections on the horizon
Politics also continue to loom large in Europe. Notwithstanding the Brexit negotiations, general elections in the Netherlands, France and Germany all feature this year and Italy may join the club also. Our outlook for the European economy is one of steady growth, assuming there are no major electoral upsets.
The Trump victory has led to expectations of higher interest rates and a stronger US dollar. Historically, emerging markets have underperformed developed markets in a strong dollar environment. This is exacerbated by Trump's protectionist standpoint, which is clearly a potential negative for global trade. However, we expect emerging market growth to improve, led by a cyclical recovery in Brazil and Russia and helped by supportive Chinese policy. Emerging markets are generally under-owned and reasonably valued so any market overreaction could provide an investment opportunity.
We expect the impact of central bank policy to diminish over the coming years, with fiscal stimulus favoured to support growth. We believe that diversification remains attractive, as political risk and sentiment oscillations are likely to cause volatility.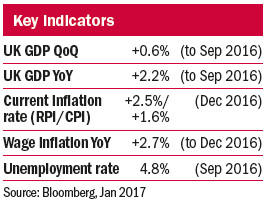 Emily Petersen is a portfolio manager at Cazenove Charities.
More on