Charity Finance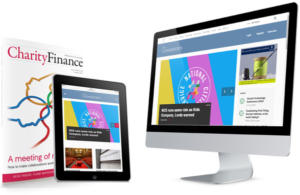 Charity Finance magazine is the essential resource for everyone interested in the financial side of running a charity. Published ten times a year, it combines technical, legal and regulatory updates with exclusive research and analysis, interviews with sector leaders, examples of best practice and other in-depth features to help you develop your strategic financial capabilities and enhance your leadership prospects. Charity Finance was first published in 1990 as NGO Finance, becoming Charity Finance in March 2001.
Look out for these in-depth surveys published in selected issues of the magazine:
Charity Audit Survey
The Audit Survey is Charity Finance's longest-running survey, and has been widely credited with helping to suppress audit-fee inflation. It lists:
• The top audit firms serving the sector and their fee revenue
• The average audit fees paid by charities of different sizes
• Ratings for how satisfied charities are with their auditors' performance
Charity Fund Management Survey
Charity Finance's Fund Management Survey provides an in-depth insight into in the investment firms serving the sector, as well as the latest trends in fund management. Using data provided by all of the major firms, it reveals:
• Which have the most charity clients
• How much they invest on their behalf
• The latest thinking on issues such as socially responsible investment
Charity Pooled Funds Survey
Most charities do not have sufficient funds to invest on a segregated basis, making pooled funds their gateway into the markets. However, even larger investors these days recognise that pooled funds offer an easy means for diversification and cost-efficiency. Even segregated investors may find that their managers have stationed large portions of their portfolio in pooled funds.This survey canvasses fund managers' views on:
• The merits of pooled versus segregated investment
• The merits of charity-specific pooled funds compared to those on the wider market
• Risk and return characteristics of pooled funds
Chief Executives Survey
Our biennial guide to the chief executives running the UK's 100 largest charities, revealing who they are as well as their backgrounds, gender, pay levels and thoughts on the role.
Finance Directors Survey
Our biennial guide to the people guarding the purse-strings of the UK's 100 largest charities, revealing who they are as well as their backgrounds, gender and thoughts on the role.
Charity Banking Survey
The Charity Banking Survey is an in-depth guide to the banks serving the non-profit sector. It includes:
• What banks are most popular among charities in different income categories
• Which banks score the highest ratings for customer satisfaction
• Analysis of mergers and acquisitions in the banking marketplace
• Charity views on ethical banking