By the time you read this, the winners of this year's Social CEOs awards will have been announced at a special event at JustGiving last night. Once again this year's winners show how charity leaders at the helm of organisations of all sizes and budgets can use digital to help their charity increase its networks, fundraise and engage stakeholders in creative ways, giving an extra dimension to achieving their organisations' goals. But this can only be done if leaders are willing to take risks, be visible and have courage about trying new things.
So what can we learn from 2018's winners, including the new digital awards? We've pulled together the key lessons below in the hope that other charity leaders see what is possible, and how their charities can benefit.
Be passionate
Kate Collins, CEO of Teenage Cancer Trust took home the award for overall winner of the top CEOs. Kate's talent for building relationships, flying the flag for her charity's work and helping her team feel recognised can be seen in her tweets. With 2019 likely to be a volatile year, Kate's inspiring Twitter presence helps motivate her staff and shows what they are aspiring to achieve. 'Building a movement' has been one of the buzzwords in the charity sector for the last few years but it is meaningless unless it starts with your workforce, and your CEO is prepared to rally them behind your cause.
Delighted to see the hard work of the @TeenageCancer L&D team recognised - our Leadership Development Programme has been shortlisted for @learningaward

Enormous thanks to the funders and partners who have made this investment in growing the talent of our people possible https://t.co/kHXK6QoTBo

— Kate Collins (@KateCollinsUK) October 23, 2018
You need a multichannel strategy
Many of the charity leaders who were nominated focused on Twitter. This is a really good place to start but the charity CEOs who were doing something creative on other platforms, or who had thought about their presence across all channels stood out. The judges noticed how Josiah Lockhart, CEO of Firstport, had a well thought out approach across Twitter, LinkedIn and Instagram, talking about charity and social enterprise developments relevant to his charity and sharing his lessons learned as a leader. This gives a strong impression of his charity's work, their ethos and his expertise.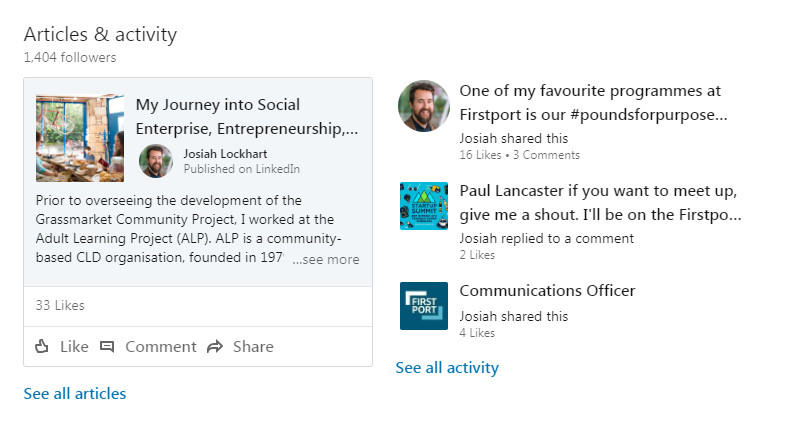 Whoever came up with the phrase that a picture is worth a 1000 words obviously had social media in mind. A quick video or photo can highlight your charity's cause in a memorable way, such as in this example from Martin Houghton-Brown, CEO of St John Ambulance.
#RestartAHeart part two with my unit in #Brighton all ready for our #community to join us and learn life saving skills pic.twitter.com/lSH8YrgwIq

— Martin HB (@hblondon) October 16, 2018
It's all about balance
Two of the winners in the Best Leader on Social Media category juggle a range of relationships and interests with skill. Caroline Price, winner in this category and Director of Services at Beat, is notable for the way she takes time to talk to service users on Twitter with empathy.
Thank you so much for the support I'd love to be an ambassador one day and continue to help @BeatEDSupport with their important and vital work

— emily nuttall (@emily4993) October 22, 2018
Rob Murray, Head of Scotland at Changing Faces juggles this role alongside being a Commissioner at Scouts Scotland effectively on Twitter, sharing just the right amount of content from each. The panel felt that Rob was a good example of how many charity leaders can share their portfolio of roles and interests online.
The sector needs more from trustees
Helen Stokes-Lampard, chair of The Royal College of General Practitioners won both Best Trustee on Social Media and Best Digital Trustee. Under her leadership the RCGP has launched an ambitious digital transformation programme, changing the way it offers curriculum, training, assessment and continuing professional development (CPD) resources, with the aim of improving the quality of service which RCGP can offer patients. 100,000 users have already signed up to its eLearning hub. Helen's social reach has influenced some key national policy decisions, such as the suspension of the obligation for doctors to share patients' confidential NHS data with the Home Office for suspected immigration cases. The judges discussed how this shows that the sector's expectations of trustees and how they lead on digital is evolving, and how they need to show that they are thinking big.
Many delegates were energised yesterday by presentation about potential of Group GP consultations @RCGPAC - not suitable for everyone but evidence suggests are showing great potential for some conditions and patients really value them https://t.co/6U57l7ZtBB

— Helen Stokes-Lampard (@HelenRCGP) October 6, 2018
Grassroots change can be powerful

Digital transformation isn't just about big organisational change programmes. It's also about the people within those charities who are at the coalface and can encourage everyone around them to do things differently. Nikki Bell, relationship manager at the British Heart Foundation and winner of the Best Rising Star on Social Media award was praised for her ability to inspire other fundraisers to improve their fundraising approach with social media, and for the fact that her teachings reach BHF volunteers who then put good practice into their voluntary work. Liz Green of YouthLink Scotland, winner of the Digital Champion award is clearly passionate about how digital can help her sector punch above its weight.
She has brought staff together at lunch and learn sessions where she has helped those with relatively low digital skills see the different benefits of using digital in a youth work setting.
Julie Dodd, winner of the Best Digital Leader award, was commended for her cross sector perspective on digital change, which helps get her peers talking about wider digital transformation issues.
We need more digital skills in the sector
Whilst this year saw an increase in nominations, with some excellent charity leaders being put forward, the judges only selected 25, rather than 30 CEOs as in previous years, for the top CEOs category, and chose not to make an award in the Digital CEO category as none of the nominees met the criteria. All of this indicates that whilst there is more traction in the sector around digital, stand out skills in this area are still in short supply. We hope that 2018's winners will therefore 'pay it forward' by nominating charity leaders from organisations of all sizes and causes next year. And we hope that you will also tell us who you think should win then. These awards are about continuously raising the bar for what we expect of how our leaders use digital, and how this can expand their charities' horizons.
To see the winners and get more resources to help charity leaders with social media see http://www.socialceos.org/