Charity Book Club started by accident in 2019. Yasmin tweeted a photo of the books she was reading, Ellie replied with a book club idea which Yasmin thought was a joke - little did she know that Ellie had got Rebecca involved and Charity Book Club was born.
Charity Book Club is a community of people who work in or for charities who like reading, chatting about books and meeting other people in the sector.

Our vision has resolutely been to inspire people to think big and think differently; we want our members to read books that broaden our horizons, challenge our thinking and open our minds to issues, realities and stories beyond our own.
'Networking without having to network'
We were keen to create a space that was inclusive and informal; enabling anyone from across the charity and not-for-profit sector to join or dip in-and-out as they wished. We wanted members to be able to chat to other sector people without it having to feel like networking, and it's been really exciting to see these connections flourish as the community has grown.
Our events started off in London pubs and during the pandemic we moved online. We were nervous about how the transition would play out and it's been heartening to see members that have been attending since 2019 alongside people from across the country that are joining online. It is our aspiration to get back to in-person events, but we also acknowledge that we've built a strong online community too and so we are exploring a hybrid approach.
Diverse range of books
We alternate fiction and non-fiction and select our books carefully. We choose themes that resonate with our members, or the current political climate, or social campaigns. For example, during the rise of the BLM movement we chose several books about race, and as the pandemic entered into its second year in 2021, we selected Zadie Smith's collection of essays written during lockdown.
We are really proud of the diverse selection we've been able to cover so far and want to push ourselves to ensure we're always reading books that open minds and break boundaries. Many of the choices have come through recommendations and votes with our members, enabling us to read books we may not have come across or that match our usual tastes. It can be extremely rewarding.
At each event, we discuss how the book resonated with each of us and what the themes that jumped out where. We also talk about our least favourite bits too! We give each book a score out of 10, and a one-word review, which is shared on our Twitter and Linked In.
Author Q&As
We have been lucky to host two author Q&As for Charity Book Club members:
Magid Magid - The Art of Disruption
Katie Colombus - How to Listen
It was a privilege to host these authors and the events were a resounding success, with lots of questions and food for thought. Magid challenged us all to consider how we can bring activism into our everyday lives, and Katie brought the Samaritans principles of listening and being present to life for us.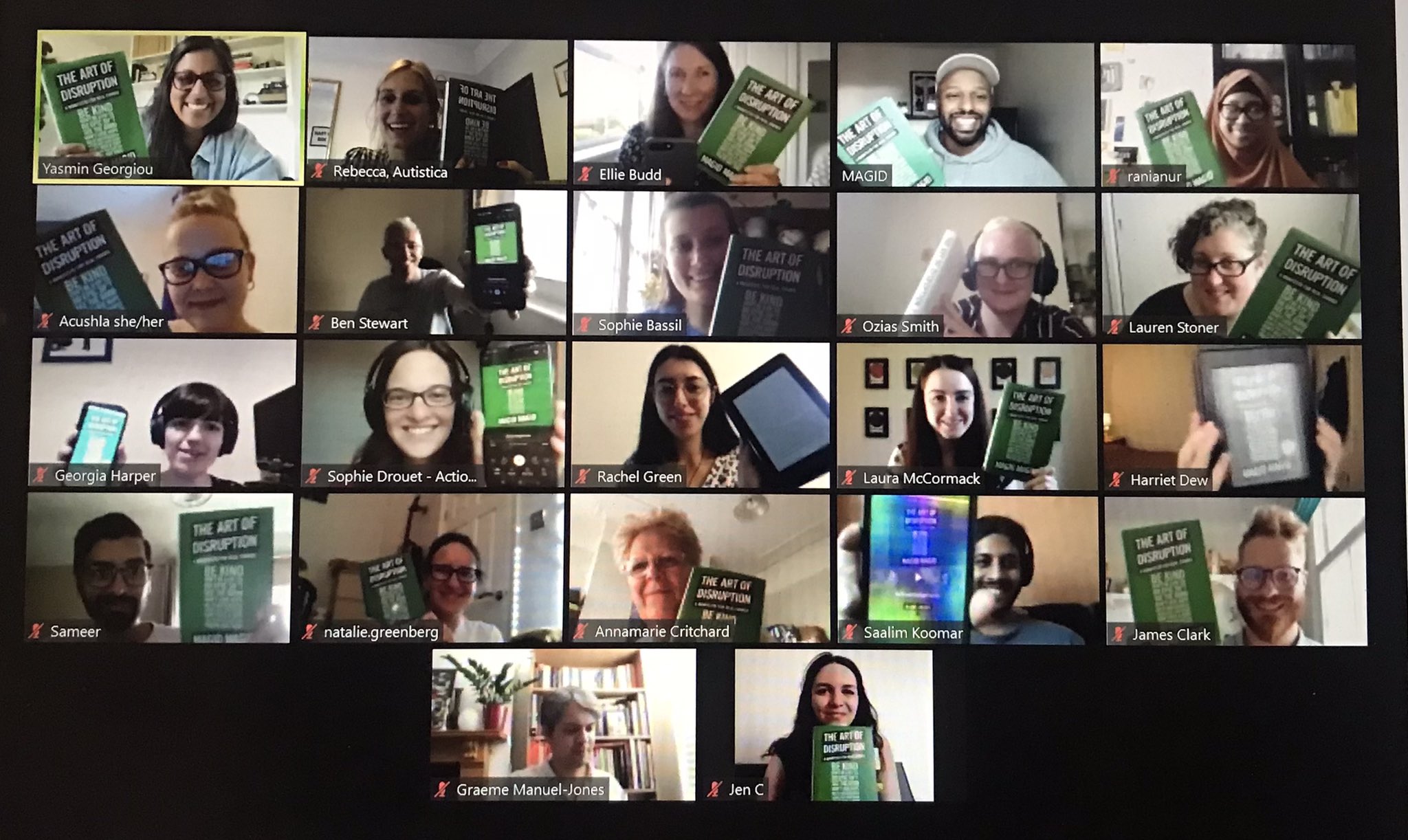 We are excited to host more events like these as we continue to grow and welcome input from our members and people across the sector for ideas.
Charity Book Club is free to join and we welcome anyone who works in/for charities and not-for-profit organisations. We hold an event every other month. Please follow our Twitter and LinkedIn for updates on our next events, to join the conversation on our next book choice and see what we're up to!
The Charity Book Club List:
The Optician of Lampedusa by Emma Jane Kirby
Normal People by Sally Rooney
Invisible Women by Caroline Criado-Perez
Why I'm No Longer Talking to White People About Race by Reni Eddo-Lodge
The Testaments by Margaret Atwood
Americanah by Chimamanda Ngozi Adiche
Girl, Woman, Other by Bernadine Evaristo
'Twas the Nightshift before Xmas by Adam Kay
Shuggie Bain by Douglas Stuart
Intimations by Zadie Smith
The Art of Disruption by Magid Magid
The Beekeeper of Aleppo by Christy Lefteri
How to Listen by Katie Colombus
Such a Fun Age by Kiley Reid
The Descent of Man by Grayson Perry
Drowned World by JG Ballard
Sway by Pragya Agarwal
About the founders
Yasmin, Rebecca and Ellie are passionate about the sector and creating a meaningful community in Charity Book Club. Yasmin is digital engagement strategy partner at Action for Children, Ellie is senior product manager at William Joseph, and Rebecca is head of communications at Austica UK.
Charity Book Club is hosted by William Joseph, a creative agency that works with charities and universities. They help solve problems by better understanding their audiences' needs. Working across digital, print and branding, they create content that people can actually understand and engage with. William Joseph kindly supplied pizza and drinks (essential items for book clubs!) for our in-person events and, since moving online, they have made donations to a charity linked to each book.
Our next events are:
More on