Ashley Van Haeften has resigned as chairman of Wikimedia UK, effective from last night, following a ban from editing the English-language Wikipedia after adding inappropriate material.
The Wikimedia UK board held an EGM yesterday evening to select its new chair. Van Haeften has been replaced by trustee Chris Keating who will be supported by trustee Doug Taylor in the newly-created role of vice chair.
Van Haeften will remain as a trustee of the seven-person board of Wikimedia UK and as chair of the Wikimedia Chapters Association, an organisation set up in March this year to "promote coordination and accountability" among 30 Wikimedia chapters internationally, including Wikimedia UK.
Jon Davies, chief executive of Wikimedia UK advised:
"Ashley is keen that there should be no division in the WMUK community over his role as chair, especially at a time when so many great things are being achieved. He has therefore resigned as chair."
Van Haeften was sanctioned by Wikipedia's Arbitration Committee last month, receiving an indefinite ban from the site which he may appeal after 6 months.
He had been the subject of a number of complaints relating to his behaviour as an editor on Wikipedia, which included ad hominem attacks on other contributors and the posting of inappropriate material on the wiki. On one occasion he contested the removal of a link to an advert for a pornographic video, re-adding the content and extending the description.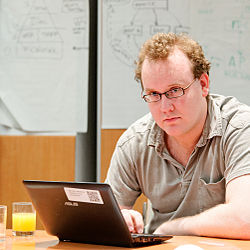 Van Haeften's replacement, Chris Keating, known on Wikipedia as The Land, was appointed to the Wikimedia UK board in April 2011 and re-appointed at the charity's AGM this year on 15 May.
Keating is a professional fundraiser and campaigner and will take responsibility for the annual Wikimedia UK fundraiser. His full-time job is as senior direct marketing manager at King's College London where he is responsible for direct mail campaigns and supporting the telephone fundraising manager. Prior to his role at King's College Keating was senior individual giving fundraiser at Parkinson's UK and previously spent over four years as fundraising manager for the Liberal Democrats.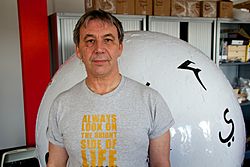 His term will run until the 2014 AGM.
Doug Taylor is a new addition to the Wikimedia UK board, elected at this year's AGM, and his term runs until the AGM next year. He has been a trustee of one charity or another since 1981. Taylor is a fervent anti-racism campaigner with the ANL, is chairman of an unemployment charity in Wolverhampton of which he has been involved with for ten years and has been a member of the Socialist Educational Association for ten years. He edits Wikipedia under the username RexxS.