The UK has climbed back into the top ten of the Charities Aid Foundation's annual World Giving Index.
The United Kingdom is listed as having been the sixth most generous country in the world last year, climbing five places from the previous index.
The World Giving Index measures how many people have donated, volunteered and/or helped a stranger in the past month. It is based on survey data issued to over 150,000 people from 146 countries as part of Gallup's World View Poll.
This year's index finds that 68 per cent of people in the UK donated money to a charity in the last month, up from 64 per cent the previous year. It also reveals that 63 per cent had "helped a stranger" and a third had volunteered.
The only more generous country in Europe is Ireland, which comes in fifth place. Ireland is also the only other European country in the index's top 10. The Netherlands, Norway, Iceland and Malta all make it into the top 20 of the index.
Indonesia most generous
For the first time in the nine-year history of the index, Indonesia is ranked as the most generous country in the world. Australia is in second and New Zealand in third place.
Myanmar, which had for many years consistently polled as the most generous nation on Earth, falls to 9th place in this year's index rankings. CAF's research says this is due to "a fall in the number of people volunteering".
The top 20 can be seen below.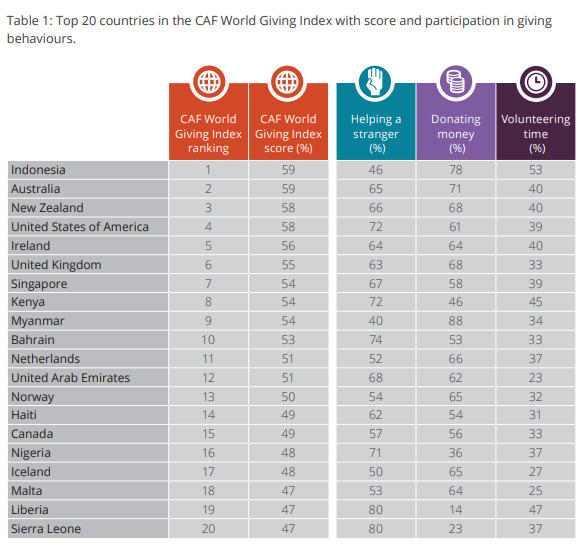 Women more likely to volunteer than men
The findings indicate that, globally, women are more likely than men to volunteer their time to charity.
The survey says that 22.6 per cent of women had volunteered for a charity in the last month, compared to 19.5 per cent of men globally. Women increased their participation rate as volunteers by 0.5 percentage points this year, compared to last.
The survey finds that there was little difference, however, between the percentage globally of men and women donating money to a charitable cause.
John Low, chief executive of CAF, said: "It is forever humbling to see how people across the world continue to be moved to help others, giving their time, donating money and helping strangers. It is a basic human instinct to lend a helping hand, and it is always amazing to see how people in countries which have suffered conflict and natural disasters are stirred to help those in need.
"It is good news that this year's CAF World Giving Index shows a continued increase in giving across Africa. It is also encouraging that last year's decline in western countries seems to have been reversed.
"But we should be concerned that for the second year running there has been a decline in the proportion of people donating money to good causes. It is a reminder to all of us in civil society that we should never take giving for granted."
The index has been published ahead of next month's #GivingTuesday, which is run in the UK by CAF.