Tesco was forced at the weekend to deny false claims by Twitter users that it was to donate all funds raised from the government's new plastic bag levy to Help for Heroes.

Within moments of Nick Clegg's announcement at the Liberal Democrat conference of a 5p bag tax that would raise funds for charity, several Twitter users had already decided which organisation Tesco should donate its funds to.

An embarrassing online exchange started when members of the public descended onto Tesco's Twitter account and tweeted messages of "congratulations" and "thanks" in response to Tesco "deciding" that it would support the UK's military charity.

One tweet from parody account @IDS_MP, which impersonates MP Iain Duncan-Smith and has over 15,000 followers, called on other supermarkets to follow suit and was re-tweeted over 30 times with a potential reach of over 43,000 users.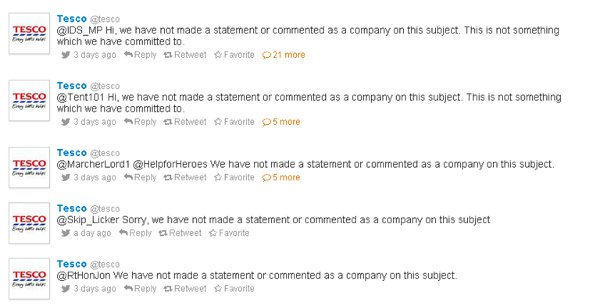 Tesco's Twitter controllers soon realised what was happening and its public timeline was soon filled with tweets to individuals declaring that: "We have not made a statement or commented as a company on this subject. This is not something we have committed to."

However, as the social media mishap developed, members of the public used the opportunity to suggest Tesco was betraying the UK's armed forces and one user responded to the official line with: "Outrageous attitude, our armed forces will be appalled."

Another accused the supermarket of "snubbing our armed forces" and suggested Tesco must "like bad publicity" because the incident followed the horse meat scandal which hit the headlines earlier in the year.

A Tesco spokesperson said: "Our support for service charities is something we're really proud of and we work with many, including Help for Heroes. Over the weekend we held another nationwide collection in our stores for Help for Heroes, which is expected to have raised hundreds of thousands of pounds."