Two charity sector leaders have taken to Twitter to complain that the new Charity Commission board only includes one person from the sector, with Debra Allcock Tyler calling for responsibility of appointing the board to be removed from a government minister.
The Cabinet Office announced the six new board members of the Charity Commission that will replace the current governance team at the regulator serving under William Shawcross as chair last week.
Shawcross's new team will comprise: retired senior police officer Peter Clarke; social entrepreneur Claire Dove; legal experts Orlando Fraser and Tony Leifer; technology and media specialist Nazo Moosa; and research professor Gwythian Prins.
Today, Debra Allcock Tyler, chief executive of the Directory of Social Change, took to Twitter to complain that only one member had a charity sector background – Claire Dove, who is chair of Social Enterprise UK and has a longstanding background in the charity and social enterprise sector.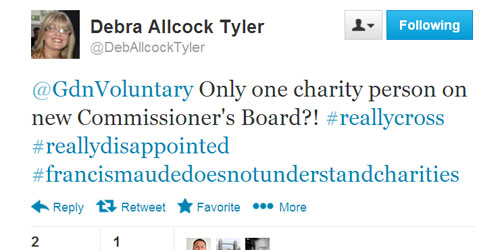 Dan Corry, chief executive of NPC, also aired similar concerns on Twitter.
Speaking to civilsociety.co.uk, Allcock Tyler said: "It's ridiculous. I know a couple of new members of the Charity Commission board are charity trustees. But, it's not the same thing. It's like appointing a charity chief executive to be a commissioner of the Metropolitan Police."
Allcock Tyler continued that most of the new Charity Commission trustees will "not get" the charity sector: "There are 160,000 charities and the majority are small not international NGOs. They've appointed a board with no experience of charities. They haven't run them."
Allcock Tyler said the Charity Commission board had a better mix before. She also said she was disappointed with the appointment of William Shawcross as the chair of the Charity Commission: "I said it when he was appointed," she said. "Shawcross is a great guy and very intelligent. But his experience is mainly of international NGOs. Where is the small charity person on the new Charity Commission board? 150,000 of the 160,000 charities in the UK have a turnover of less than £10,000. The vast majority of work in charities is done by volunteers. Not one of them is represented on this new board."
In response, Allcock Tyler has called for the government to change legislation and remove powers of appointing the board from a government minister. "It should be an independent panel," she said. "Or maybe even a voting process as this is such an important part of the charity sector."
A Charity Commission spokeswoman said: "Our new board members were selected from a very strong field of almost 300 applicants, and we are confident they will bring a rich mix of insight and expertise to the Commission from inside and outside the charity sector. As well as notable achievements in their own fields they all have strong non-executive experience, including many charity trusteeships."