The RSPCA has launched a mobile phone service which will compete with other mobile services and raise money for the charity.

The RSPCA Mobile Service, launched today, is a cause-related marketing effort and believed to be the first time a charity has ventured into mobile service provision.

Initially a pay-as-you-go service launching with four mobile handsets, RSPCA has plans to roll out a monthly contract offering as well. Customers can also buy sim cards on their own. The charity will receive 10 per cent of the value of top-ups and an additional 5 per cent if the user re-charges their credit on the rspcamobile.co.uk website.

The offering is designed to compete with traditional mobile services on price and coverage; the charity claims it will provide 99.8 per cent coverage in the UK and is up to 40 per cent cheaper than alternative providers. The charity will also be selling mobile skins.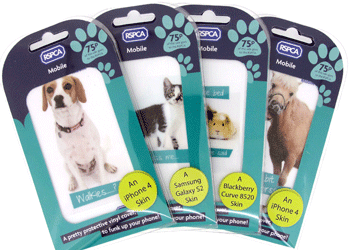 Andrew Lyons, RSPCA corporate account manager, said that the service is designed to attract new income, without requiring that cash-strapped donors spend additional money.

"The RSPCA Mobile service offers a very simple way for people to incorporate giving into their everyday expenditure," he said.
Last October, RSPCA announced a total review of its fundraising portfolio in an effort specifically to develop new products and tap new audiences.
The phones will be sold on the rspcamobile.co.uk site and in Go Mobile stores. Shebang Technologies Group is hosting the service in partnership with the charity.