The top 100 charities have recorded their most sustained fall in voluntary income for more than 20 years, according to figures published today.
Latest data from the haysmacintyre / Charity Finance 100 Index appears in Civil Society Media's Charity Finance magazine, published today. It shows that for three successive quarters the overall voluntary income of the largest organisations in the sector has decreased.
The index tracks income streams for voluntary income, charitable activities, gross trading, legacy, and investment. The latest data is available to subscribers here.
Voluntary income is mainly made up of donations, but also includes some other unrestricted income, as explained here. Restricted grants are excluded because they fall under the charitable activities category for the purpose of compiling the Index.
Historically, voluntary income has outperformed all other income streams at the largest charities, and has been less susceptible to drops.
The recent fall only affects voluntary income. There has been no distinguishable change in the other streams over the same period.
The latest data mainly draws on accounts filed for the year end March 2017 or December 2016 and therefore mostly captures income from 2016 when many large charities paused or withdrew from some fundraising activity in the wake of criticism in the press and parliament.
In the second quarter of 2016, the 100 charities' combined voluntary income was at £3.20bn, its highest record level. But this dropped by 2.6 per cent in subsequent quarters.
£3.16bn in Q3 2016
£3.13bn in Q4 2016
£3.12bn in Q1 2017
Biggest drops
Two of the biggest drops recorded came from social care providing charities Mencap and MHA. Voluntary income of each fell by 28 per cent.
Mencap's voluntary income fell from £4.4m in the year running to March 2016 to £3.1m.
MHA's voluntary income dropped from £4.5m in the year running to March 2016 to £3.2m.
Age UK also reported a large drop. Its income from gifts and donations dropped from £19.5m in the year to March 2016 to £15.0m in the year to 2017, its latest accounts show, a fall of 23 per cent.
Hft, Scope and Sue Ryder also reported drops in their income year-on-year.
Tate Gallery recorded a drop of 36 per cent to £48.8m in the year to March 2017 while British Museum recorded a drop of 15 per cent to £22.0m in the same period.
Christian Aid's voluntary income fell sharply from £49.8m in the year running to March 2016 to £44.9m in the year running for March 2017, a drop of 10 per cent.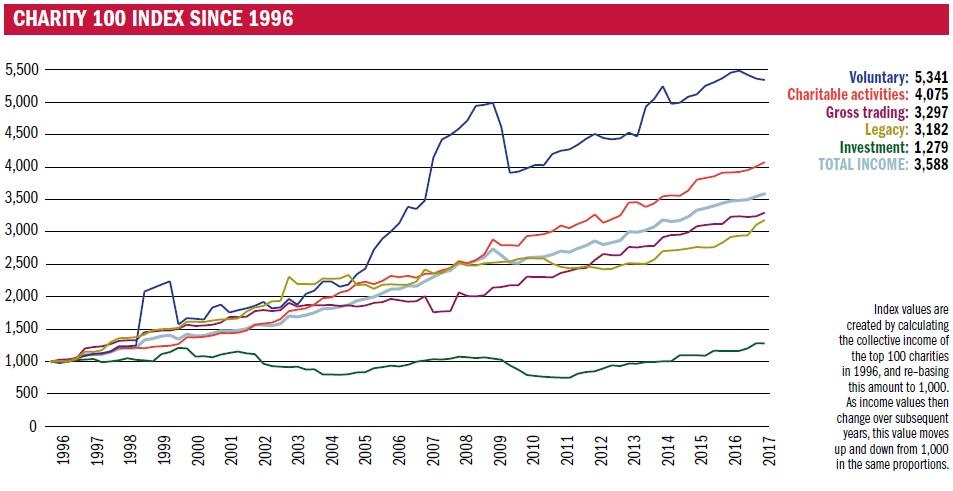 Other charities
These other charities recorded a fall in voluntary income in their latest accounts:
Islamic Relief Worldwide
Gatsby Charitable Foundation
Comic Relief
NSPCC
Oxfam
Royal Opera House Covent Garden
ActionAid
British Red Cross
Marie Stopes International
PSDA
RSPCA
UNICEF
Grace Trust
Plan International UK
World Vision UK
However, some charities recorded an increase, including:
Tearfund
Sense
RSPB
Prince's Trust
Motability
Leonard Cheshire
Great Ormond Street Hospital
Canal and River Trust
Royal National Theatre
National Trust
Shelter
Historical drops
While the voluntary income figure has dropped from quarter to quarter at other points in the past 20 years, this is the first time a sustained decrease has occurred.
A sharp drop was recorded for two successive quarters between Q1 2009 and Q3 2009 but this is because the index spiked and then fell again when the Children's Investment Fund Foundation received a multi-billion endowment.
There is a similar blip recorded between 1998 and 2000, when the PPP Foundation and the Diana, Princess of Wales Memorial Fund both joined and then left the Index following large temporary influxes of funding.
A dip in voluntary income was also recorded in 2014, but this was a side effect of the Index's annual membership review, rather than a reflection of any widespread drop in income.