The charities minister has said that civil society should be "embedded in every single part of the government".
Speaking at an all-party parliamentary group in the Houses of Parliament yesterday, Nigel Huddleston described himself as the "lead" minister for civil society, arguing that all government departments should be focused on the sector.
At the event, Huddleston said the government was looking at simplifying the safeguarding process for volunteers.
He said: "Everybody needs to take safeguarding seriously because I'm afraid there are just too many incidents where, if we don't keep an eye on it, bad things happen.
"I know there are a lot of complaints about it and I understand that. We are trying to simplify it as much as possible, but it is part of the required process."
Also at the event, representatives of the Vision for Volunteering initiative said it would not "be prescriptive" in measuring the programme's impact.
Minister: Civil society should be embedded 'across government'
Huddleston said that although he is the minister for civil society, all government departments should be focused on the sector.
He said: "Volunteering gets talked about a lot in parliament, and our Fridays in the constituency are all around civil society.
"I'm very pleased to be the lead minister for civil society, and I always say that by the way, because it should be and is pervasive across all government departments.
"I'm happy to encourage and cajole but it needs to be embedded in every single part of the government."
He felt this extended to his work as lead minister for loneliness. He said: "I label myself as the lead minister on loneliness because I don't want to be the lead minister and then let other departments and other ministers off the hook from realising its their responsibility as well."
Volunteering programme will not 'prescriptively' measure impact
The Vision for Volunteering programme aims to make volunteering "something we all do across the different settings and stages of our lives" by 2032 and is headed by NCVO, NAVCA, Volunteering Matters, the Association of Volunteers Managers and Sport England.
It published its key themes earlier this year, which are: awareness and appreciation, power, equity and inclusion, collaboration and experimentation.
Emma-Jane Hampsheir-Gill, an ambassador for youth social action programme #iwill who helped to launch Vision for Volunteering, said the programme would not be "prescriptive" in measuring how successful it has been.
In response to a question about impact measurement from an audience member, she said: "The Vision is deliberately not prescriptive because if we sit in a room and try to measure success it's going to be the wrong shape for just about everybody apart from us.
"So, when we did the launch, we gave everyone one of these postcards and said imagine it's 2032, we want you to write here what you want to be seeing in 10 years' time because nobody knows your organisation as well as you."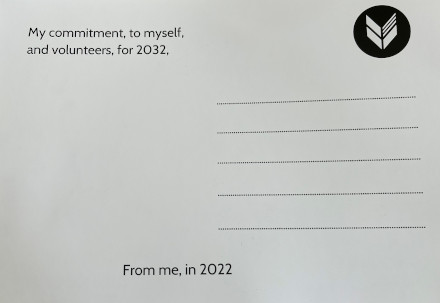 Huddleston thanked senior charity professionals for asking the Department for Digital, Culture, Media and Sport (DCMS) to be part of the initiative and said: "I'll make sure I'll keep a close eye on this and be as involved as I can be."
Encouraging young people into volunteering
Co-chair of the APPG, Robin Hodgson, asked the panel how organisations could strive to get people from varied age groups involved in volunteering.
Hampsheir-Gill said "simple practical things" like ensuring meetings do not clash with school hours would enable more young people to volunteer.
Huddleston acknowledged that many volunteers are older people. He said: "There's a certain type of people that actually do a great deal of the work. Often, but not always, they're retired or semi-retired and we're highly reliant on them.
"One thing we saw during the pandemic was quite how reliant we were because all of a sudden swathes of those who were not able to do what they wanted to do [anymore]. Now, luckily, we have this huge swathe of new people coming in."
Improving volunteer diversity
Hampsheir-Gill suggested that the definition of volunteering could be broadened as part of the initiative to improve equity and inclusion.
Volunteering is called by many names, she said, but "mostly has one face, and I think that's where we need to look very hard at ourselves indeed".
She said: "Can you tell me that everyone in your community thinks volunteering is something for them? And that is where the Vision asks us where to go and where to be in 2032."
She suggested that the stereotypes around volunteering are problematic, and quoted Professor Patricia Hill Collins: "'A white, private college student who goes to a poor neighbourhood for four hours a week is considered exemplary. Whereas a poor kid who lives in that community and takes care of all of the kids in it for four hours a day is not seen as a volunteer.'"
Hampsheir-Gill asked the room: "Aren't they both volunteers?"