St Barnabas Hospice has suspended donations at 20 of its charity shops, after receiving more than 50 tonnes of donated goods in the last month.
Charity retail experts had previously warned that some shops could be overwhelmed by donations once they re-opened after the coronavirus lockdown lifted.
St Barnabas said in a statement that it has received ten times as many donations as it would normally expect at this time of year. It has asked supporters not to bring any more stock while they clear the backlog, which is likely to take at least a month. It has also encouraged new volunteers to come forward to help.
Using extra storage
St Barnabas Hospice shops have received around 15,000 bags and boxes of donations since re-opening last month, and storing the goods has only been possible thanks to three cowsheds provided by the Lincolnshire Showground, the charity said.
Caroline Peach, head of retail at the charity, said: "The last thing we wanted to do was to temporarily stop accepting items, but our sorting team just can't keep up with the speed that we are receiving them at the minute.
"They are also having to wait 48 hours before the items are deemed 'safe' to handle under government guidance (this was previously 72 hours). This is why we are asking people to stop donating for a few weeks while our team of staff and volunteers works through the donations and gets them delivered to our charity shops to be sold.
"My message to our lovely supporters is to keep hold of your donations until we are able to accept them again. It is anticipated that this will be in around four weeks' time."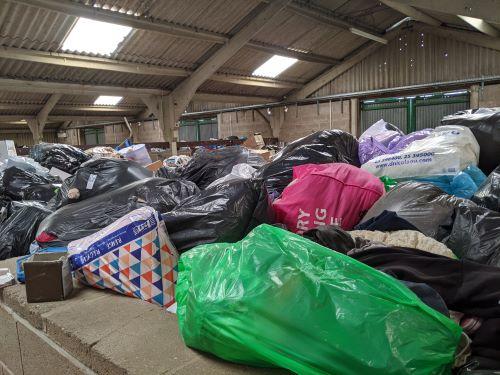 Call for volunteers
St Barnabas Hospice has 26 shops in total across Lincolnshire, some of which remain closed to customers.
Dane Jakins, the warehouse logistics manager, said: "We have a brilliant team of volunteers who work alongside us both in the warehouse and in our charity shops.
"It would be a huge help if more people are able to come forward and give just a few hours of their week to help sort through donated items or to help in their local charity shop. We would gratefully receive offers of help from anyone aged over 16, whether it be for the short term or long term."
Warnings
The Charity Retail Association published guidance in May advising shop managers that they were like to face "many unknowns" as they re-opened after lockdown, including a need to address potential delays and additional costs.
Later that month, the Textile Recycling Association cautioned that charity shops may also find it difficult to move on unsold stock and free-up space, as a result of changes in the global market for recyclable goods.