Three years ago, morale and motivation among the workforce at The Advocacy Project was at rock-bottom. The board had diminished in size and energy over time, and many of the trustees had left. Over threequarters of our income came from a single government contract – which was potentially up for retender. A lack of confident leadership and direction had led to a climate of fear and risk aversion, which paralysed decisionmaking, with signs of a blame culture that was demoralising for our people.
I took on the role of chief executive with the brief to re-energise the charity through transparent, values-based leadership.
With annual staff turnover at over 50 per cent, I knew I needed to listen to what the workers' had to say. So one of my first acts was to commission a staff survey. It revealed that just 17 per cent of employees felt that senior managers communicated effectively about what the organisation was trying to achieve. Only 20 per cent of people felt that it was safe to speak up and challenge how things were done. This was ironic, given that the role of an advocate is to speak truth to power and help people make meaningful choices about what happens in their lives – voice, rights and choice.
Despite all this, the organisation was known for the quality of its work and the difference it made to people's lives. Reflecting on this and other diagnostic information, I decided that we needed to tackle three things:
To refresh and renew the board, so that they could provide strong and confident leadership and direction to the management team, and hold them accountable for delivering the change that was needed
To create a strong sense of direction in the senior leadership team, and build a positive and supportive culture throughout the organisation
To communicate much better with the staff, recognising that communication has to be two-way, so they had a clear feeling of belonging, value and direction.
I worked with the chair to transform the board. Recognising the link between good governance and impact, we paid a great deal of attention to board diversity and made sure that about half the trustees had lived experience of the issues on which we work – like mental health and learning disabilities.
This was a fundamental decision and has continued as a hallmark of our governance approach. And this injection of energy enabled us to reinvigorate our strategy and face the future with confidence. The first phase of board renewal took around four months.
Values and culture
Working with the senior leadership team, we reflected on our values and set out explicitly the culture we wanted to create – a safe, positive, supportive environment in which our staff could do their best work. We saw this as critical to deepening our impact, and also as a way of supporting our people, given that just under half the workforce have lived experience of mental health and learning disabilities.
We focused on mental health and wellbeing in the workplace, making sure that our policies were person-centred, and provided staff with a counselling service. We substantially improved our training, learning and development programme, and the organisation that accredited us to the Advocacy Quality Performance Mark said that our offer was among the best in the sector. This was done on a shoestring – for example, by persuading national experts to give lectures pro bono.
One of the earliest issues we tackled was that many of our people felt that some things were unequal and unfair. They didn't feel valued.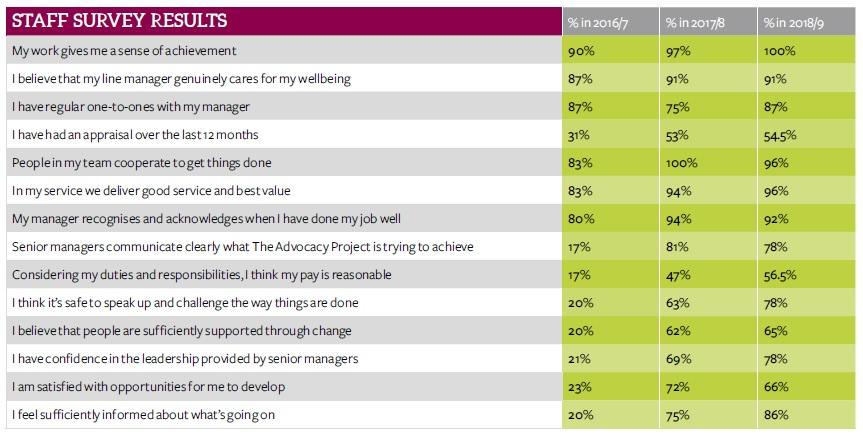 Addressing anomalies
As we'd grown by merger, we had staff on very different terms and conditions. Some people were paid quite differently for similar work or had much more annual leave than others. This didn't chime with our values, so we set about trying to address the anomalies in a way that was cost-neutral. This was not easy, not easy at all. People made suggestions, and honest and open conversations took place about what was possible and what wasn't. The engagement was constructive and, within 12 months, we had harmonised terms and conditions in a way that made everyone feel more valued.
As part of this process, we introduced a job evaluation scheme to ensure we had a robust way of setting salaries. In the long term, we aim to pay the median for charities of similar size, scope and complexity, although at present many roles are paid below the median. While we're looking for ways to pay better, our culture, our focus on wellbeing, having a good non-financial benefits package and excellent training and development opportunities have together enabled us to recruit amazing staff, who stick around, do a great job and are satisfied at work. Given that we have a young workforce, people sometimes want to go travelling or take time out. Rather than leaving, people are able to take a leave of absence and then be welcomed back.
The implementation of transparent and values-based leadership, along with targeted training and development and a comprehensive mental health and wellbeing programme, has transformed the charity's culture and people's relationships with the organisation – as evidenced by a massive improvement in staff survey results. As communication is part of our core values, we have repeated the staff survey every year and shared the results with all our people.
The changes in culture, motivation and attitude have been clear to see, as the chart below demonstrates. This is the key chart we use within The Advocacy Project when we share the results of the staff survey with our people. In 2019, 91 per cent staff feel that their manager genuinely cares about them, and nearly 80 per cent of our people feel that it's safe to speak up and challenge (compared with 20 per cent in 2016). It's good to see that by focusing on leadership and values, we have made real change happen within the organisation, and we are committed to continuing to improve.
Listening, learning and leading with confidence, we have increased the value of our work to vulnerable people across London, while improving our financial sustainability. But we're still just at the start of our journey. Many things still need to be done, and there are lots of opportunities to improve.
We are far from complacent. But sometimes it's good to reflect on how far we've already come, as we consider how best to lead the organisation forward.
Judith Davey is chief executive at The Advocacy Project
Civil Society Media's Charity People & Culture Conference takes place in September and this year the overall theme is 'Wellbeing & inclusion in modernisation'. Judith will be speaking about The Advocacy Project's approach to staff engagement at the conference. View the programme and book online here.