And we have lift off – the first interest rate rise in the UK in a decade! In August 2016, the Bank of England cut rates by a 0.25 per cent in reaction to the potential adverse repercussions from the Brexit vote.
The appropriateness of this action has been under scrutiny over the last year as the fall in sterling fed through to UK inflation numbers. The latest action to move rates back to 0.5 per cent, however, was accompanied with downward revisions to future inflation numbers. Has the post-referendum surge in UK inflation peaked?
We live in a world of "forward guidance", where central bankers endeavour to signpost their next move to the financial markets long before they do it, intending to avoid an adverse reaction in asset prices.
The problem with forward guidance is that credibility is quickly lost if the market starts to expect and price in an increase in interest rates which then fails to materialise. There was certainly a sense that the reliability of the Bank of England would have been called into question if action hadn't been taken at the beginning of November. However the disconnect was evident between expectations in the City and those of the general public, made clear by the resulting headlines and helplines set up by mortgage providers.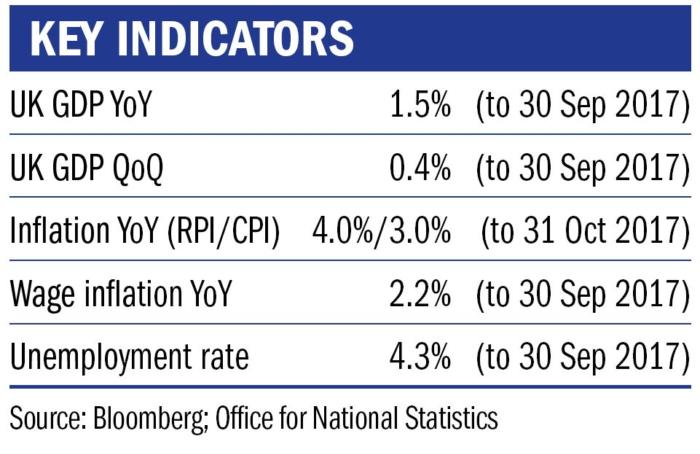 Inflation
The inflation dynamic doesn't appear to be getting any clearer, with a surge in food prices being offset by the feedthrough of cheaper fuel prices and deep discounting in non-food products such as furniture. This resulted in CPI standing still in October at 3 per cent, although the Bank expects a fall back to the target rate of 2 per cent next year as the currency effect of last year's sharp devaluation in sterling washes through the economy.
What does this mean for interest rates going forward? Given the outlook for inflation, the Bank of England commentary around the increase in November was interpreted to mean that there will be little action in the immediate future, and the market is now only pricing in a further two rate hikes in the next three years. In fact, we think that even if inflation demanded it, the underlying economy would not be able to tolerate meaningfully higher interest rates due to the modest growth outlook and the significant amount of debt remaining on household balance sheets.
Jenny Renton is investment manager at Ruffer.
More on