Although just eight charities in the haysmacintyre / Charity Finance Charity 100 Index have financial year-ends falling in the second quarter of the year (April – June), they have produced some very positive results. As a result, total income across the Charity 100 Index has risen 15 points ahead of the quarterly average. Furthermore, all income sub-streams have performed above expectation, particularly legacy income, which outpaced its quarterly benchmark by 30 points.
The strong performance was due largely to a 77 per cent increase in legacy income at WWF-UK, bringing it to total legacy income of £16m. This helped the animal and environmental charity's overall income to £70.8m (up 13 per cent).
The biggest rise in overall income came at new entrant the Lloyd's Register Foundation, up 49 per cent to £29.2m following a 76 per cent increase in Gift Aid from its trading subsidiary Lloyd's Register Group.
Despite this, however, the foundation will fall out of the Charity 100 Index next year because its three-year average income will no longer be boosted by the £206m investment portfolio gifted in 2012/13 by the Lloyd's Register Group. Looking ahead, more than half the charities with financial year ends falling in the third quarter have already filed their results including top ten Charity 100 member the Wellcome Trust. The global charitable foundation, dedicated to funding improvements in health, reported a 5 per cent increase in income to £390.3m, largely as a result of an 11 per cent increase in investment income.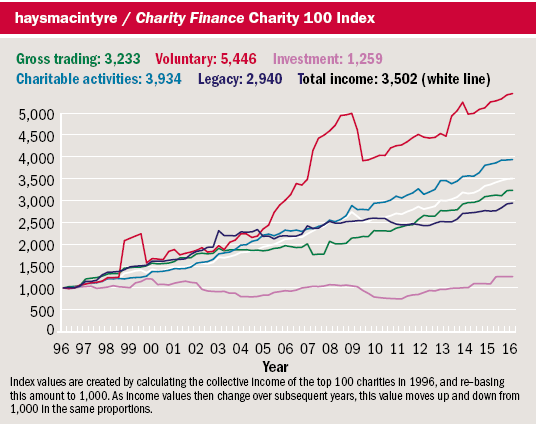 Medical research charities
The Wellcome Trust is one of 20 charities across the Charity 100 and Charity 250 Indexes which fund medical research. These charities range from Cancer Research UK, with annual income of £635.2m, to Prostate Cancer UK, with annual income of just over £20m.
Most are members of the Association of Medical Research Charities (AMRC), whose 140 members spent £1.4bn on medical research in 2015, which equates to 44 per cent of all publicly-funded medical research in the UK. According to the AMRC, this surpasses both the National Institute for Health Research (NIHR) and the Medical Research Council (MRC), which in 2015 spent just over £1bn and £0.8bn respectively.
Funding medical research is not the sole activity of AMRC members and many are involved in direct care provision. However, AMRC members must include funding for medical research as a principal activity or charitable object, have a published research strategy, and use peer reviews in awarding research funding.
The income streams of Index charities engaged in medical research are fairly diverse. Investment income generates over 90 per cent of funding at the Wellcome Trust, while trading income accounts for almost 60 per cent of income at the British Heart Foundation. Legacy income accounts for 52 per cent of income at Arthritis Research UK and 41 per cent at Parkinson's Disease Society, while charitable activities in the form of patient services income comprises over 90 per cent of income at the Royal Hospital for Neuro-disability.
Taking all the 20 medical research charities in the Indexes together, voluntary income accounts for 31 per cent of their turnover, followed by charitable activities and legacies at 22 per cent and 18 per cent respectively.
Discretionary sources of income such as legacies can, of course, be fairly volatile, as numerous medical research charities have found. One recent example is Great Ormond Street Hospital Charity, where legacy income fell by 19 per cent at in 2015/16, reducing legacies' contribution to the charity's total income from 27 per cent in 2014/15 to 19 per cent in 2015/16.
Similarly, successful fundraising campaigns can leave quite a gap once they have run their course. The £7.2m raised in 2014/15 by the Ice Bucket Challenge for the Motor Neurone Disease Association, which is not an Index member, fell to just £5,000 in 2015/16, contributing to a 34 per cent fall in total income to £16.7m.
And innovative fundraising campaigns, which make quite a splash at the start, can flounder when the novelty starts to wear off. Movember Europe, which exited the Charity 250 Index earlier this year, is a case in point.
Total income at the men's health charity, which averaged £23.2m in its first three years, has fallen back to less than £10m in 2015/16. Trustees accept the need for the charity to progress from having a "single ask" to developing "a new year-round, diversified fundraising strategy" involving "new fundraising and donor channels outside of the annual Movember campaign".
Keeping it fresh
According to haysmacintyre charities partner Anna Bennett, "all fundraising campaigns need to continually evolve to stay fresh and successfully engage and grow their supporter base. This is particularly the case for long-established events, which can risk becoming stale."
A very successful long-established campaign is Cancer Research UK's Race for Life, which since its launch in 1994 has developed into a series of events involving running, jogging or walking.
Similarly, the World's Biggest Coffee Morning campaign, run by Macmillan Cancer Support, has its roots in a nationwide coffee morning which took place in 1991. The event has grown rapidly since then and has for several years held the Guinness World Record for the "largest simultaneous coffee party".
The campaign has also diversified into other fundraising events such as garden parties and pub quizzes, and has inspired other world record attempts such as most distant coffee morning (Antarctica in 2002) and the highest coffee morning (on a jet fighter in 2004).
In common with other fundraising charities, medical research charities face the requirement to comply with increasing levels of fundraising regulation from the Charity Commission, the Fundraising Regulator and more recently the EU in the form of the General Data Protection Regulation.
"Medical research charities are taking these new rules very seriously and are – in many cases – dedicating significant resources to ensure that their policies, systems and procedures are in order," says Bennett. "Because there is often quite a big overlap between supporters and beneficiaries in this sector, medical charities need to show unequivocally their compliance with the rules and ethics of personal data."