Another week and the world of satirical charity content never rests. Today's Society Diary looks into Olly's ruff landing at Crufts and picks a bone with the British Heart Foundation.
A decidedly ruff landing
Diary doesn't know about you, dear reader, but it certainly enjoyed the televised spectacle that was this year's Crufts. The only place on television where, once a year, one can watch all manner of pampered, preened and primped pooches from all around the world be briskly walked around a small square of AstroTurf.
In the end *Spoiler Alert* an American Cocker Spaniel called Miami was the overall winner. This despite the fact that its coat had been grown out and shampooed into a sort of furry poncho, which gave the poor dog the appearance of having been encased in a shimmering, hairy valance.
Miami's victory also bought the tweed and leather patches, Brexit brigade out on Twitter. 'Call that a gundog?!' they yelled, before taking a picture of a different, mud-spattered spaniel with some dead fowl in its mouth. "THIS IS A GUNDOG. CRUFTS IS A JOKE! EVERYTHING IS A JOKE! TRAITOR".
And so on.
Anyway, while the dogfight for Best in Show made for surprisingly gripping television, some of the best action actually happened away from the main arena. Take for example this chap below, who had the word KEN emblazoned on his forehead for no reason. Is he Ken? Was his dog Ken? Was he Glaswegian, and just wanted to know if you understood? Nobody knows.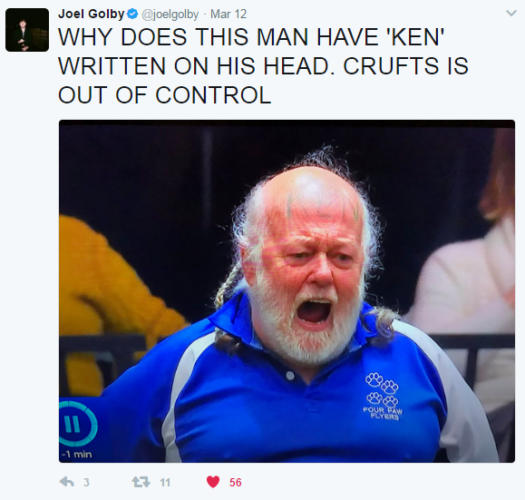 Yet the greatest part of Crufts, in this column's humble opinion anyway, was the obstacle course. While some dogs were decidedly good at the obstacle course, other dogs were less good. Then, there was Olly.
Oh Olly, the athletically inept Jack Russell who literally fell at the first hurdle and, at the same time, into our hearts. He's now famous in the only way a dog can really, truly be famous: for being bloody adorable.
Also, Olly has a decided charity link because he was abandoned as a pup outside a Blue Cross rehoming centre in Hertfordshire nearly five years ago and, needless to say, the charity has been filling its PR boots after his furry face-plant shot him to his 15 minutes of fame.
Fun Blue Cross Olly facts: they named him Loki originally "after the Norse god of mischief". He also celebrated "winning the hearts of the nation by tucking into some tasty sardines on Friday evening". Also, when he met his owner for the first time he "humped" her foot.
Maybe Olly should have saved that last cracking anecdote for his memoirs.
Men: there's some good news, and some bad news
So the British Heart Foundation has issued a press released, in which it responded to research finding that erectile dysfunction drugs are beneficial after a heart attack.
Yep, we're on the subject of erectile dysfunction, so it's probably best we make a long story short. It turns out that some erectile dysfunction medications, such as Viagra, have PDE5 inhibitors in them, which "substantially lower the risk of dying or being hospitalised for heart failure" for patients who have already suffered a heart attack.
Basically it appears that if you want to keep your heart working, then it might be better if certain other organs are not working. It's a Hobson's choice. As Woody Allen said: "My brain? That's my second favourite organ".
You'd have thought that this story would be a, er, fertile topic for Diary in terms of puns. But actually this long and sensitive column is struggling to come up with anything. It's keeping us up all night.
What a tool
Finally, to Cardiff and an electrician who had his set of tools accidentally sold while he was fixing a faulty light fixture at a charity shop.
According to the BBC, Andrew Bickel had nipped outside "to get something from his van" while fixing a faulty light at a cat re-homing charity shop in Cardiff only to come back and find his toolkit, worth around £200, had been sold by "the old lady on the till" for £1.
Perhaps most gallingly of all for Bickel is the fact that he was apparently fixing the light as a favour for the charity, and wasn't even being paid.
The sparky posted on Facebook: "Doing a love job in a charity shop, put my tools down, went to the van, came back and the old lady on the till sold them for £1.
"Funny but fuming. Over £200 worth."
After Bickel's post was shared – "over 90 times", according to the BBC South East Wales; talk about a slow news day – a local electrical company has offered him a new set of tools free of charge.
The story doesn't say what happened to the charity shop volunteer who flogged this Samaritan's tools for a quid, but fair to say she's probably feeling like a bit of a spanner now.
More on