Our weekly round-up of outlandish and interesting information collected from the corners of the charity sector.
These bite points - too accurate for sand people

They say that charity is its own reward. And so it proved for Scott Loxley, where it literally saved his life.
Loxley is hiking around Australia dressed as a stormtrooper to raise funds for a children's hospital, and as he hiked out of Yarlboroo in Queensland, he was bitten in the shin by a highly poisonous king brown snake.
Now, stormtrooper armour is famed for not stopping anything at all – certainly not Han Solo's blaster – but it appears it does work against snakebite. Instead of suffering poisoning, pain and possible death, Loxley was instead able to shrug and carry on with his day.
Whether he reached for a weapon of his own to attack the snake is not reported, but it makes little difference. As a stormtrooper, he'd never have hit it anyway.
(As a historical note, the events described herein took place a couple of weeks ago, but never let it be said that Diary allows a lack of contemporaneousness to blight its reportage.)
Getting a grip on charity work
Diary was extremely taken with the charity Hand Angel (www.handjobtw.org), which offers essential service to disabled gentlemen with personal needs. It's a Taiwanese not-for-profit, and all services are provided by a small group of volunteers who smuggle their charges into motel rooms and then go well above and beyond the call of duty.
In all seriousness, good for them. A poll conducted by newspaper Metro found 60 per cent of readers thought this service should be available for the disabled on the NHS, and Diary is included to agree with them.
Sector bigwigs divided by merger
Last week, at an Institute of Fundraising event, Sir Stephen Bubb, grand high panjandrum of Acevo, and Andrew O'Brien, newly promoted top policy wonk at CFG, had a brief contretemps over whether we needed more mergers in the sector. Bubb said yes. O'Brien offered a qualified maybe.
You can read some of Civil Society News's more sententious ponderings on the meat of the issue here, but Diary prefers its responses snappier. Take for example this tweet from David Floyd, director of Social Spider, a consultancy-type organisation focused on social enterprise and social investment: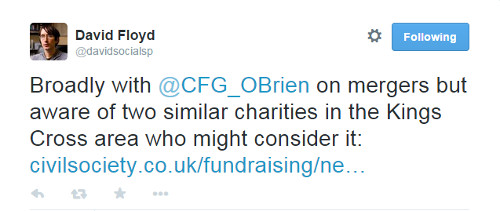 The fund for needy vegetarians
Apropos of nothing much, Diary also found out a fun fact this week. There are eight charities in the UK dedicated to helping vegetarians – including at least one which exists, rather wonderfully, for the relief of poverty of needy vegetarians.
And new vegetarian charities are sprouting up all the time.
Some of them, though, are being squashed out of existence, including Diary's personal favourite, the curiously specific Friends of Homes for Elderly Vegetarians, which was recently liquidated. (Although perhaps with vegetarian charities, that should be juiced.)
So why is vegetarian charity a growing field? Perhaps people need incentives to give up eating meat. After all, it's important to use the carrot not the stick.
Anyway, it's hard to get to the root of the issue. Although it's certainly something to chew on.
Still here? That's a surprise
Finally, on a similarly incidental note, Diary came across this story from last year, in which Camilla Batmanghelidjh, flamboyant founder of children's charity Kids Company, said they would have to shut down unless they got more money from the government by the end of the year.
So Diary put in a quick call to Kids Company to ask them if they'd got any more money, and if not, when they were going to shut down.
No, they hadn't got any more cash, the woman on the other end of the phone said. But neither, surprisingly, does the charity have any imminent plans to close.