A new iPhone app by Depaul actually makes users feel something (while getting around donation restrictions). That is revolutionary, says Jonathan Waddingham.
Despite over 100,000s apps being built for the iPhone, very few charities have entered the world of mobile applications. That could be understood in the early days of apps, but since iTunes has had over a billion app downloads, it's clear there's a market.

The charity apps that have been released so far are mainly been trying to be useful or informative. Good examples of these are BullyingUK's app, (which puts their content in your pocket), WaterAid's Toilet Finder app (that helps you find a nearby toilet) and the recently released JustGiving app (useful for individuals fundraising).
Don't get me wrong, they're all great, and serve the purpose they're meant to, but none of them make you sit up and think differently about a subject. This is where the iHobo app, built by Publicis London for Depaul UK, comes in.

This app puts a homeless person in your phone for three days, and uses the technology of the iPhone to make a subtle, but immersive experience. You see, your homeless person sends you messages (using the iPhone's push notifications) every so often during the three days, and if you respond and give him a sleeping bag, money or a sandwich, he'll be ok. If you ignore him, he might not find a place to sleep, be offered drugs or go hungry. You can check on his overall wellbeing at any time to see his body temperature, calorie intake and how many alerts you've missed.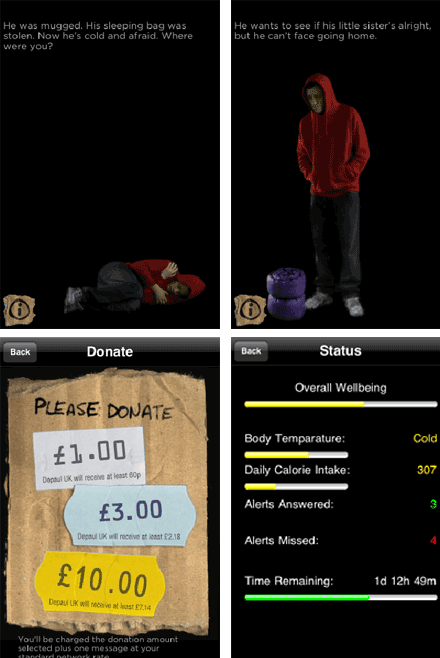 In a way, it's like the Tamagotchi pets that were so popular a few years back –give them attention and they thrive, or leave them alone and they suffer. But it's also nothing like Tamagotchi, as you grow strangely attached to your hobo as the days go on, and you respond to the calls for help and feel good as you see him get along ok thanks to your help – like it's a real person, not a toy.

Another clever feature of the app is the donation options – as they've not tried to accept donations within the app, nor send people off to a website to make donations (which aren't always optimised for mobile either, but that's for another blog post), but include options to send a text donation. It's a very simple way of getting around the app donation issue, but very effective. I'm surprised no one's thought of that before. Plus, they show how much of the text donation goes to the charity, a good nod to transparency.
But back to my hobo. I ignored him last night, and when checking on him this morning, I found out that he'd been mugged. I genuinely felt bad. And this is the crux – this app makes you feel something. Yes, it might make some uncomfortable and argue that it's belittling the plight of the homeless, but that's what I like about it. The best charity appeals, for me, evoke an emotional response. They challenge you to think differently about a subject, and for me, that's why the ihobo is a fantastic charity app.

Check out the video to find out more.