This content has been supplied by a commercial partner.
With the United Nations COP26 now underway in Glasgow, media coverage and conversations will intensify around governmental actions to address climate change, and efforts to prevent its breakdown.
Many topics may feel distant to observers – how to price carbon emissions, mobilizing an already committed $100 billion per year from developed nations to help less developed countries transition, or improving collaboration between governments and non-state actors.
However, the potential implications of these COP26 discussions are enormous. As the UN released the latest Intergovernmental Panel on Climate Change (IPCC) report in August, the Secretary General stated simply that it is "a code red for humanity" .
One telling statistic that demonstrates the huge importance of COP26 and the UN Sustainable Development Goals is that 30% of all food in the world is wasted, whilst up to 811 million people were facing hunger in 2020 – the World needs to act.
Investors, either personally moved or financially astute, may wonder what specific actions they can take in their portfolios to promote positive change to address climate change. We can't rely solely on governments, in our view well-invested private capital will be essential to address climate change. For example, all things constant, demand for water is projected to exceed supply by 40% within the next 16 years. Investments needed to ensure water security are estimated to be up to $22.6tn by 2050.
In April, the Institutional Investor Group for Climate Change published a "Net Zero Investment Framework Implementation Guide" to support institutional firms seeking to align their or their clients' portfolios, with the goals of the Paris Agreement.
Many aspects of the report are relevant and useful. Notably, they all broadly propose a net zero investment strategy should focus on achieving two objectives:
Decarbonise investment portfolios through use of science-based assessment and pathways that align with achieving global net zero greenhouse gas (GHG) emissions by 2050.
Increase investment in the range of "climate solutions" that will support the Paris goals.
For charities these objectives remain valuable to structure thinking and take action. Decarbonising existing portfolios is a critical element for investors to prepare for the implications of both transition and physical risks on existing and future holdings. An estimated $14tn of investment is required over the next 20 years for the energy transition to stay within the 2C trajectory.
Barclays recently surveyed their clients (including charities) and created the Benchmarking Sustainability report. Almost one in five (18%) of our respondents in the charity sector said they were aiming to be net zero by 2030.
The report showed that 61% of respondents considered environmental sustainability as extremely important. Interestingly and something that we have observed in the Private Bank when we are supporting clients with the development of their investment strategy is that three quarters of Charities see this as extremely important.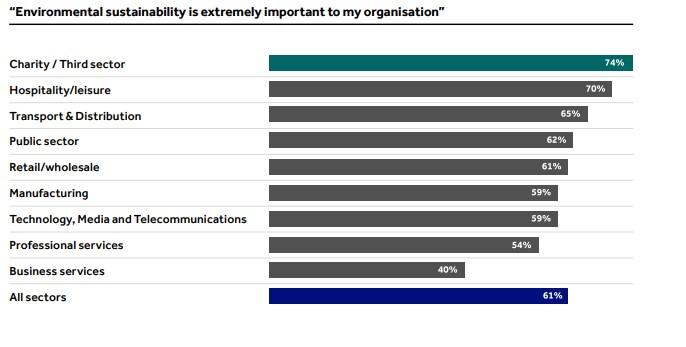 The reason for so much interest being paid to sustainable investing is that it provides an opportunity to direct capital to businesses who are looking to positively impact the world. In addition, the Environmental, Social and Governance analysis that underpins most sustainable strategies should lead to less stock specific negative events. The relevance being that based on our charity and third sector respondents 98% cite reputational management as being extremely important to their organisation.
The focus is not just on investment, our analysis also showed a strong feeling of the importance of this issue to staff. Furthermore, the sector has great awareness of the impact of environmental issues on the communities it serves, with a far above average 55% (versus 27% overall) saying the impact on those communities is the biggest threat to their business.
Within the charity sector there is clearly a focus on the greater good, and it is therefore understandable that there is such a strong focus on environmental issues and corporate social responsibility.
Despite these findings, it's important the sector continues to invest in environmental sustainability practices, with a below-average number of charities saying they are prepared for future changes.
Barclays are here to support you and others on this journey which will inevitably have its challenges but the need, potential and opportunity is significant.
Ian Chesham is Director -Education, Charities & Sustainable Investments at Barclays Private Bank
Barclays Bank PLC is authorised by the Prudential Regulation Authority and regulated by the Financial Conduct Authority and the Prudential Regulation Authority (Financial Services Register No.122702) and is a member of the London Stock Exchange and NEX. Registered in England. Registered No. 1026167. Registered Office: 1 Churchill Place, London E14 5HP.