Last week our inaugural People and Culture Conference heard how some charities are making their offices great places to work – and the lessons were not always what you might expect.

Some of the sector's top leaders and HR professionals spent a day at our conference last week sharing expertise on how to produce productive employees and a positive workplace culture.
Here are some of the key lessons from the day.
Happy employees are good employees

Focusing on happiness is one way to promote a good culture. During the closing plenary Nic Marks (pictured), founder of the consultancy Happiness Works, made a passionate case for putting people's wellbeing first. By doing so charities can not only create a great culture, but make greater impact for their cause.

According to Marks happier people have less time off, as they recover from illness quicker, and are more alert and responsive to the world around them, which is particularly useful in any customer service environment.

He said that while a fear-driven culture "works up to a degree and will create results in the short term" the relationship between happiness and success was very clear, creating a "virtuous circle". He added that research suggests that there is a much stronger correlation "if you start with happiness".

Fundraisers should take note. If Marks is right then tightening up the rules on fundraising methods to stop pressuring both staff and the public could only be a good thing.
Hire the right people in the first place
Another element to the conference was the importance of hiring people who fit into your office culture.
The conference heard that every charity has a different culture, depending on a range of things such as size, age, location and even its charitable objectives, and as such different personality traits can be more suited to working there.
Sometimes no matter how well-qualified someone is for a role they will not gel with colleagues. That is why getting the recruitment process right is important.

Kate Collins, director of fundraising and marketing at the Teenage Cancer Trust, told delegates to use the interview process as a way to find out about potential new hires to make sure that they will be a good fit. She said it's important to "actually talk about what it is really like" at the charity and shared that one of her favourite interview questions is to ask, "How are you going to celebrate if you get this job?"

It doesn't end once you have appointed someone. Rob Hayter from TPP Recruitment recommends planning the 100 days for a new starter by adding appointments to their calendar before they join and arranging for them to meet key people, such as trustees and service users.

He also said it is important to maintain contact in between making the appointment and them starting. "Anything is better than that dreadful period of silence," he said.
Listen to staff
The importance of listening to staff came up throughout the day. What seems key is that once you have listened to staff you need to act on it (or at least explain why not).

Katherine Brown, change consultant at VSO International, explained how when the charity moved its head office, which entailed a major change to how staff operated with a switch to free-desking and more home-based working, it appointed 'champions' in each team, who were often quite junior members of staff, to encourage engagement throughout the process.

At ActionAid, the 2014 staff engagement survey sent the management a harsh message by putting the charity in the bottom quartile of employers. Graham Salisbury, head of human resources, explained how the charity was going about turning things around.

He said it had realised that he charity needed to do more to tell staff about positive initiatives. He said they send out notes to staff "just to crow about some of the good things that we have done" and has made a number of commitments to staff to improve its rating.

Salisbury also said that improving an organisation's culture could not be done simply by buying new computers.

"Don't kid yourself into thinking you can effect change in behaviour through technology," he warned.
What makes a happy workplace?
We also provided post-it notes and felt-tip pens asked delegates to share what they think makes a happy workplace.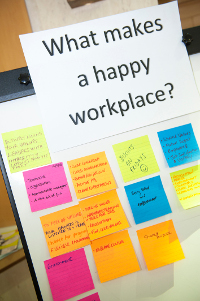 Some of the best suggestions were:
An approachable manager
Feeling trusted, valued and empowered
Being listened to
Seeing the difference the organisation makes
Having a passionate and motivated team
Clear leadership
Being in a place where you're encouraged to join in and not just fit in
Pie day
Civil Society Media is putting together a non-attending delegate package with audio and slides from the event. To find out more please email [email protected]