This content has been supplied by a commercial partner.
When you're looking for a consistently positive income stream, prize-led is always a good bet.
Over the past two years the importance and value of prize-led fundraising as part of the charity fundraising mix has been a constant. Figures from Woods Valldata amalgamated campaigns show that society raffles and lotteries continue to generate vital engagement and net income for charities.
We discussed some of the key trends in raffle and weekly lottery at the Woods Valldata Prize-led Fundraising Benchmarking and Trends Webinar 2022 with leading prize-led fundraisers from Guide Dogs, Great Ormond Street Children's Hospital Charity and Macmillan Cancer Support. We'd love to share with you some of the key take-outs…
Warm Raffle continues to perform
At an annual level 2020 was a bumper year for response rates and 2021 had a similar success with an 11% uplift in response vs 2019. Average gifts also increased throughout 2020 and 2021 vs 2019 with 2021 average gifts up £1.64 vs 2019. Together, the response rate and average gifts gives raffle a strong average banked per name mailed across the two years with 2021 fifteen percentage points higher than 2019.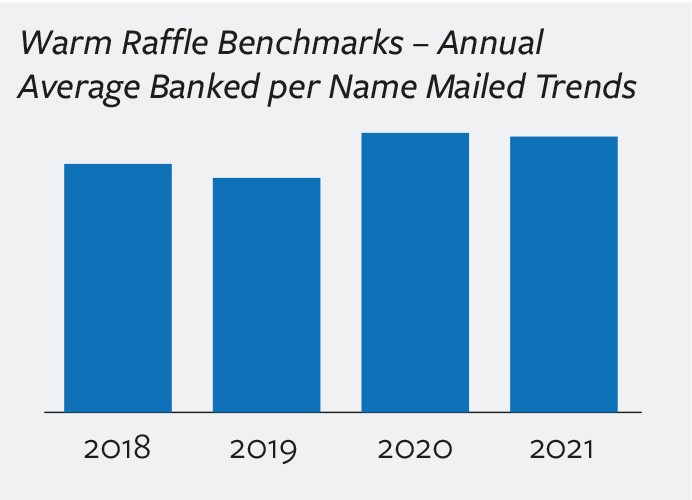 Interestingly, if we look at the average ask against the gift, the ask reduced during 2020 and 2021 but the gift has risen regardless. We can therefore surmise that the swell of giving is not linked to an increased ask but rather a desire to give and support through additional donations.
Charities are looking more towards retention strategies in raffle including tactics to increase play-again rates in the next ask, reactivate lapsing players, or simply sending a more thoughtful and considered thank you communication.
And we're seeing a great response in cold acquisition for raffle too: partially addressed mail and door drops have proven successful and cold lists are making a come-back with around a 2% response rate and average gift rates of between £6 and £12. What's more, we're seeing play again rates of around a whopping 30%!
Weekly Lottery sees persistent growth
Charity lottery has seen enforced change over the last two years, with Face-2-Face (F2F) recruitment stopping overnight in March 2020 because of Covid-19 and being sporadic throughout 2020 and into 2021. It's here that Woods Valldata saw the biggest shift into alternative recruitment channels for prize-led.
The move into digital and DRTV helped to offset the reduction in recruitment via more traditional channels. Although smaller in volume compared to F2F, lower attrition rates in these channels initially and a higher average sign-up rate again helped to minimise the impact of the changes from Covid-19 on lottery bases.
Cancellations as a whole, following a knee-jerk in March and April 2020, remained low and steady. Active players remained playing.
Together these two elements have meant a slower cancellation rate of 1% of the active base throughout 2020 and 2021.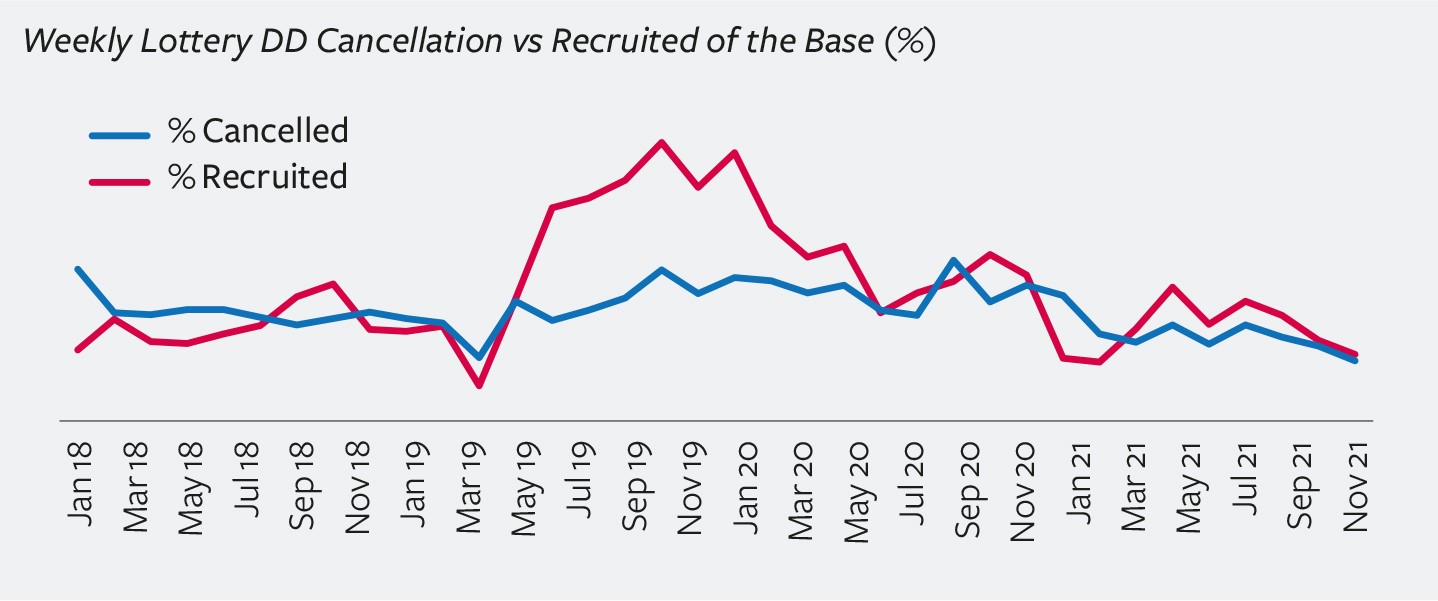 Moving into 2022, increased cost per acquisition for social media acquisition and direct response TV (DRTV) are making charities re-think their approach acquiring new weekly lottery players. Reverting to traditional media such as F2F as well as retention and upgrades through telemarketing are two ways in which charities are adapting their approaches.
Who's using prize-led and why?
In October 2021 Woods Valldata surveyed 184 charities about their fundraising activities. More than half (52%) of the respondents were using prize-led as part of their charity fundraising. When asked why, the answers are clear: it offers different ways to communicate with current supporters and drive-up income from the base, alongside offering a way to bring new and different types of supporters into the base. It's all about being different, being fun and the opportunities that offers.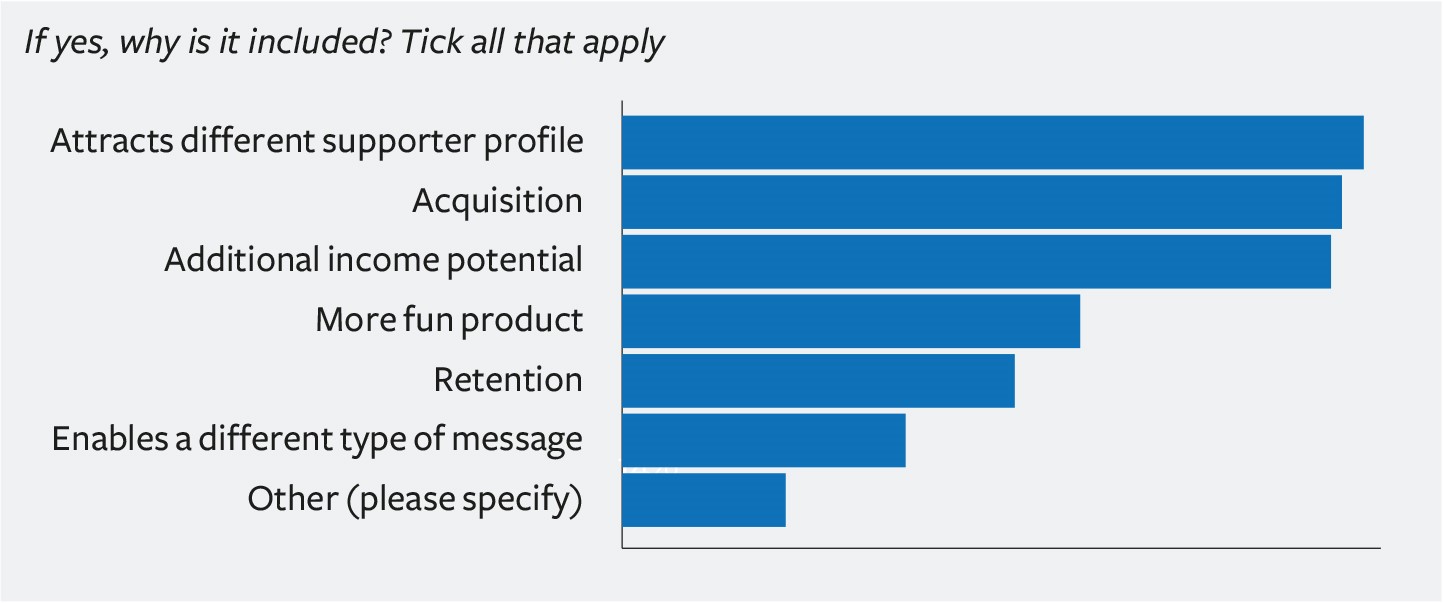 You can watch the webinar on-demand now for more helpful and interesting insights about prize-led fundraising. Well, I would say that as one of the panellists, but here's what some of the attendees are saying: "The insight from Helen was excellent, and the honesty of the panel was brilliant. Actually one of the best webinars ever!", "So much information. I've taken a lot of notes and will be rewatching", "Really knowledgeable people involved. The open forum at the end was so useful. Best webinar I've ever been to- so insightful!"
Whether you're currently using prize-led in your fundraising mix, or thinking about it as an exciting opportunity to extend your charity income generation, partnering with Woods Valldata will help achieve your ambitions. Working alongside experts in creative, strategy and implementation as well as their own data strategy and insight team means you're supported every step of the way.
Helen Daw is Head of Data Strategy and Insight at Woods Valldata
More on