Charities and individuals are increasingly finding that social media can be a lucrative fundraising tool. Leon Ward takes a look at how some campaigns have fared so far this year.

We are only four months into 2014 but already we have witnessed the incredible generosity of the UK public in a variety of social media-led campaigns.
The success behind these campaigns isn't solely down to social media. Naturally, their stories plucked at the heartstrings of the public; social media provided the catalyst that fundraising campaigns need to become huge. It gives a voice to those who would otherwise struggle in what is such a crowded and professionalised market. All of these campaigns went viral without a pre-planned strategy and that demonstrates the true value of social media.
1. Stephen's story
Yesterday, the nation was touched by Stephen's story. Stephen was diagnosed with colorectal cancer in 2010 aged 15. After successful treatment his cancer returned and he was told it would be terminal. He then compiled a bucket list of 46 tasks that he wanted to complete before his death. His lists ranged from hugging an elephant, playing the drums in front of 90,000 people at Wembley to his number one item of raising £10,000 for the Teenage Cancer Trust.
Having smashed that total early on in his campaign he raised it to £1m. Following national press coverage and tweets from the likes of Jason Manford and Piers Morgan, his JustGiving page saw a 300 per cent rise in traffic and the site had to boost its servers. Stephen had intended to sign off from his campaign on Tuesday night, posting a farewell message but he has since sent various tweets expressing how overwhelmed, touched and grateful he is by the support.

Over 41,000 members of the public have donated and at the time of writing this blog Stephen had raised £1,185,074.17, a total which keeps increasing.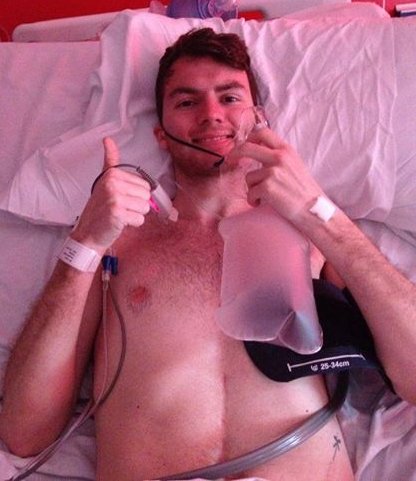 2. Rob Berry London Marathon
Runner Rob Berry (pictured left) collapsed at the finish line on the 2014 Virgin Money London Marathon and later died in hospital. His death encouraged many of his fellow runners and the public to donate to his cause, the National Osteoporosis Society. His original target of £1,700 has been beaten by over 4000 per cent, and currently stands at £74,000 with donations still coming in.
3. Jeanne Marie's #nomakeupselfie twist
Jeanne Marie put her own spin on the #nomakeupselfie that we have all read about when she posted a photo of her bruised face.
Rather than encouraging donations to cancer charities, Marie set a fundraising target of £100.00 for the Oxford Sexual Abuse & Rape Crisis Centre following her attack at a nightclub.
On her JustGiving page she explained that "for telling a guy in a club who groped me that it is completely inappropriate to touch a woman without her consent, I was beaten. No, we do not have to wear make-up, no, we do not have to smile and, most importantly, no, we do NOT have to be touched."

She smashed her £100 target, raising £16,533.00 from over 2,200 donations.

4. Daily Mail vs Trussell Trust
The Daily Mail inadvertently ended up becoming the cheerleader for the Trussell Trust when it sent an undercover journalist to show how 'easy' it was to claim food vouchers and go on to use a food bank.
The public responded to the paper's scathing article by flocking to the 'Help crack UK hunger' JustGiving page and raising its total from £2,000 to well over £60,000 in just two days.