Civilsociety.co.uk looks at the latest Facebook update to organisation pages and what it means for charities.
There are more than 37 million Facebook pages with at least 10 likes and the chances are that your charity is one of them. So how will you be affected by the latest round of Facebook changes as the 'wall' is replaced by 'timeline'?

On 30 March all organisation pages will automatically be transferred to the new timeline format, but you can already preview how yours will look and make any changes before making it live.

Most people will be familiar with how the timeline format looks as it was introduced for individuals' profiles last year, but there are some things you should be aware of to continue to get the most out of your charity's Facebook page.
Your page so far
Pages were introduced Facebook in November 2007, shortly after Microsoft bought a 1.6 per cent share in the company and advertising was introduced.

Initially known as fan pages, in April 2010 the 'become a fan' button was replaced by the 'like' button. As with individuals' profiles and Facebook Groups the main feature, and automatic landing page is the 'wall' where you can share different types of content and interact with followers.
Page owners have been able to customise their page by developing apps using Facebook's FBML code and in February 2011 Facebook launched iFrames which made it simpler for developers to pull HTML content from elsewhere on the web to create a page. Users can select one of these apps to be the default landing page for vistors to the page as Oxfam GB has done below.
Here are some other examples of Facebook apps that civilsociety.co.uk has featured in the last three years:
The following slideshow provides examples of some charity Facebook pages still using the old system, as a comparison for the new timeline layout:
Changes

Timeline structure

Instead of a 'wall' your main page will now be a timeline with content displayed either side of the line. Users can also use the button in the right hand corner to skip down to a particular year or month.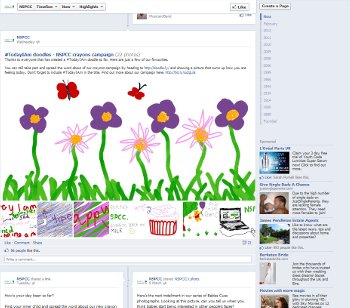 Facebook have included a 'star' feature which means you can make a straddle both sides of your timeline ensuring your supporters cannot miss it. To undo this and move a post back to one side just click the star again. Last Wednesday NSPCC used the star feature to highlight its doodle campaign (see image on the left).
Another way of highlighting a post that you don't want your supporters to miss is to 'pin' it. Click on the orange flag and to pin a post to the top of your page for seven days.

Cover image

The most visually striking change is the addition of a cover image which spans the width of the page (animal and children's charities should love this), just like with individual profiles pages still have a square profile image. You can select an image already uploaded to Facebook or upload a new one and move it around in the box to get the right fit (nobody wants to see any chopped off heads).

But beware Facebook has placed some restrictions on what can be displayed in the cover image.

Anything featuring purchase information, contact information (your charity's website and email address should still be included in the 'about' box below though) or calls to action (which would include any 'text … to donate' language) are forbidden.

Apps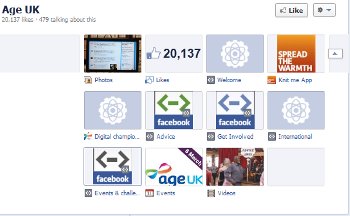 Your Facebook apps are now situated on the right hand side below the cover image and are more prominent than on the old style pages. The photos tab is fixed on the far left but you can add, swap and remove apps in the other slots. Four apps are highlighted with others visible through a drop-down button, Age UK's full list of apps is shown in the image on the right.
It is no longer possible to choose an app to be the default landing page for your Facebook followers – this may irritate charities who had been using the feature to set specific campaign app or the Justgiving donate app.

View the slideshow below showing some charities using the new-style page:


N.B civilsociety.co.uk included Oxfam America in the above slide show to compare it with Oxfam GB which is yet to switch to the new format.
Click on the following names of the charities included in the slideshow to visit their Facebook pages:
ActionAid UK
Age UK
Cancer Research UK Race for Life
NSPCC
Oxfam America
War Child UK