This content has been supplied by a commercial partner.
A third of charities will struggle to survive as the effects of the cost of living crisis impacts charity finances, according to a survey conducted by the Charities Aid Foundation.
The significant inflation in operating costs for many not-for-profits will be exacerbated by an inability for organisations to significantly increase their incomes. Some may even face a potential decrease in income as donors have to make their own cutbacks, all at a time when there is increasing demand for services.
Many organisations have significantly depleted cash reserves following the pandemic. So, what steps should trustees and management teams be taking to navigate the organisation through this "perfect storm"?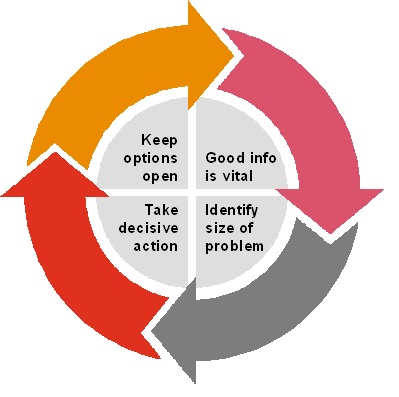 1. Good information is vital
Regular, reliable and insightful information makes a significant difference in buying thinking time. A failure to provide this will often separate those charities that survive from those that don't.
By their very nature financial forecasts can be uncertain, but in a time of distress the more certainty around key and material assumptions the better – this could be requesting multi-year grants from key funding bodies or obtaining fixed quotes for large works or capital expenditure.
However, not all warning signs will be financial. Charities should scan both their internal and external environment routinely, for example HR, organisational data and partner or competitor reviews to ensure all factors are taken into account.
During this period more frequent meetings may be needed to create a more regular rhythm by which trustees and management teams meet.
2. Identify the size of the problem
While it is likely that many will be facing an operating shortfall there are often levers that can be pulled – use of liquid reserves, cuts on discretionary spend and capital expenditure or seeking emergency funding.
Having taken all easily addressable action there should be clarity on the value and timing of any residual funding gap which is known and understood by the whole management team.
If there is still a funding gap a charity's future may be in jeopardy and therefore it is highly advised that trustees seek independent professional advice from an insolvency practitioner and/or insolvency lawyer at that time.
3. Take decisive action
At this point, charities have some more fundamental options available to them; a potential solution is likely to be one of or a combination of the three.
Scale down operations: How can cutting back services protect the core charity purpose and improve the financial sustainability?
Sell: Can they merge or handover operations with a partner organisation or someone with similar aims and objectives?
Stop: Is the best option to close some or all of the charity and wind-down operations?
Boards need to be prepared to make difficult choices under pressure - the management and board may require supplementing with specialist resource to help navigate these challenges.
4. Keep options open
For a number of reasons, charities can often be more complex to turn around than commercial organisations. It's important they keep their options open for as long as possible to help find the right solution - contingency plans may well need to be run in parallel – and there is often not the time to run things sequentially.
Turning around a charity is demanding, intense and often exhausting. However, with discipline and focus, even the most distressed charity may find a new path and become sustainable. Playing a part in such a turnaround can be immensely satisfying and help is out there.
David Baxendale is an insolvency practitioner and partner and Sophie Horsley is a senior manager, business recovery services at PwC
More on