It is April Fools' Day which means that we've seen a selection of bizarre fundraising campaigns, hilarious job appointments and other equally strange events.
Here are some of our favourites.
Greenpeace renames iconic Rainbow Warrior Ship Floaty McFloatface
Greenpeace told supporters that it has renamed is Rainbow Warrior Ship Floaty McFloatface to appeal to the Millennial generation.
A Greenpeace spokesperson said: "The step has been taken as part of a Greenpeace drive to rebrand for the 21st Century, helping to make the organisation relevant to the Millennial generation.
"The world is changing fast and Greenpeace needs to move with the times. We hope that the new name for our beloved Rainbow Warrior is treasured not only by the Reddit and Tumblr generation of 2016, but that it is embraced for generations to come."
Greenpeace's suggestion comes following the online vote to rename a £200m polar research ship Boaty McBoatface.
Macmillan launches Flamingo Friday
Macmillan Cancer Support said it is capitalising on the trend for single-day social media-led campaigns with Flamingo Friday. The charity is "encouraging supporters to complete their daily routine standing on one leg for a whole day each week and tweet about their activity using the hashtag #FlamingoFriday".
Participants will be encouraged to seek sponsorship from friends and family upon completion of their one-legged challenge. Macmillan announced the initiative today by offering its supporters the chance to be the face of the campaign, ahead of its official launch next month.
Craig Fordham, interim director of mass market fundraising at Macmillan, says: "We've observed the success of social media hashtag participation events over the past few years and are delighted to be able to launch our very own #FlamingoFriday today.
"We thought long and hard about taking our inspiration from flamingos for this event as flamingos are famously pink in colour which is a departure from our signature colour, green. We considered other options but felt Flamingo Friday would be more accessible than the alternative: Froggy Friday."
The Brooke employs Shetland pony
Horse and donkey charity the Brooke said that it has today appointed a small Shetland pony as a "motivational education officer" as part of an equal opportunities drive.
Going by the name of Mini Fat Pony, or MFP, he will help to educate and boost the morale of their staff, and encourage more organisations to consider the future for working animals
A spokesman for the Brooke said: "Our staff are passionate about our cause, and it's vital that they also understand the needs of horses – we need to remember who we work for. As a charity helping improve the lives of working horses, donkeys and mules in developing countries, it's also important that we offer equal opportunities for work for horses in the UK."
Updates on MFP can be found on the charity's Facebook page.
NSPCC's Gherkin Eating Challenge
NSPCC is calling on fundraisers to eat a jar of gherkin as fast as you can, and tweet your time to @NSPCC.
Well, actually they are not. This April Fools' joke is to raise awareness of its real Gherkin Challenge on 19 June.
A NSPCC spokesperson said: "Run or walk 38 floors to the top of the gherkin tower. Once you reach the top, you can eat as many gherkins as you like whilst enjoying 360 degree views across the capital."
CoppaFeel! to build giant boob HQ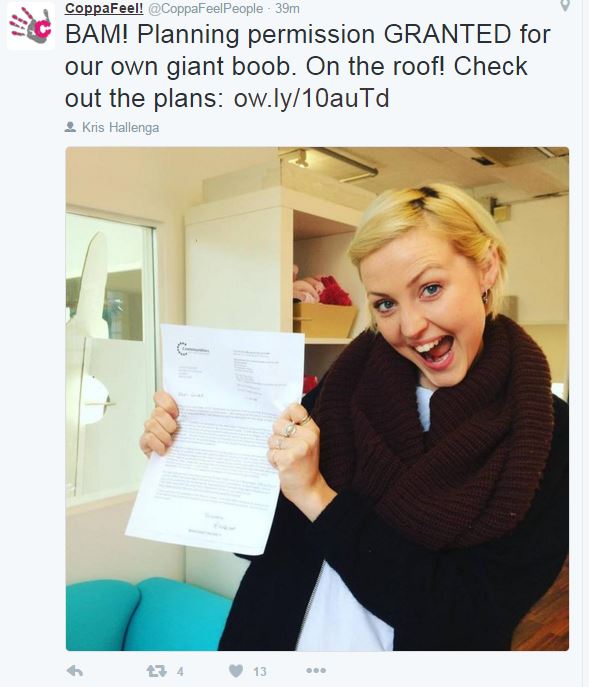 Breast Cancer Awareness charity CoppaFeel! said that it has had planning granted to build a giant boob on the roof of its headquarters.
This follows CoppaFeel's April Fool's campaign last year, of glittery nipple dip – in partnership with Barry M.
And, in case you missed it…
Government to consult on banning grants
Civil Society News did its own April Fools story this morning which, as some have pointed out, is scarily close to the truth. But don't panic, the government hasn't actually banned all grants (yet), as Billy Lyer reported this morning. For the full story read here.
Charities Minister to reverse 'disastrous' decline in government grants
The Directory of Social Change took this the other way, reporting (rather optimistically) in their policy bulletin that Rob Wilson, minister for civil society, is to reverse the 'disastrous' decline in government grants.
It said: "In a statement this morning the Charities Minister, Rob Wilson MP, announced a surprise change in government funding priorities which would see Social Impact Bonds rapidly phased out in favour of more grant funding for charities."
Before adding that this is, of course, an April Fool and bringing attention back to its Grants for Good campaign.
More on