Launches of "revolutionary" new fundraising platforms are becoming ten a penny. So civilsociety.co.uk decided to take a proper look and see which are really leading the way.

Being able to take donations online has become a 'must'. But when it comes to choosing how to do that, not every solution will be right for every charity. To help you decide what to go for civilsociety.co.uk has investigated what you can expect as a charity from those you've probably heard of, as well as some you might not have.
The big three
These are the ones you and your supporters are most likely to have heard of. As well as providing a platform for individuals to raise money for chosen charities through sponsorship pages, they also offer a way for charities to collect one-off donations directly. To register your organisation will need to be registered as a charity, either with the regulator or with HMRC. Each platform offers gift aid reclaim from the HMRC on your behalf, and each features page customisation and online support.

BT MyDonate is the only free option, as it is funded by the company as part of its corporate social responsibility objectives.
The advantage of signing up to one of these is that your supporters will probably have heard of them and will be happy to donate.
JustGiving
The grandad of digital fundraising, JustGiving has been around since the beginning of the millenium and now provides a range of services for charities and individuals raising money for a cause. It offers a range of services to charity members including branded profile pages, direct debit donations, event registration and appeal pages and can integrate with some of the leading CRM systems (Salesforce, supporterCRM, thankQ and Blackbaud's Raiser's Edge). By March 2012 it had raised £1bn for charities.
Launch: 2001
Number of users: More than 8,000 charities
Fees: £15 per month plus 5 per cent fee. If giving through Barclaycard the charity will also be charged 1.3 per cent, no other banks charge fees
What the charity gets from a £10 donation (including gift aid): £11.74 (£11.58 from Barclaycard donors)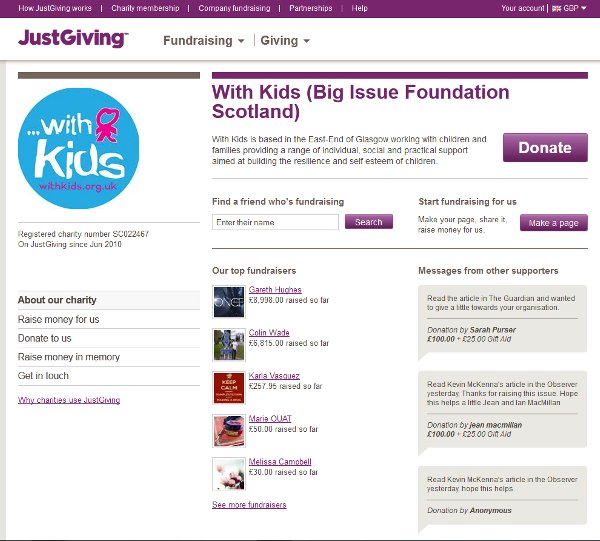 Virgin Money Giving
A five-year sponsorship with the London Marathon by Virgin Money group led to the creation of Virgin Money Giving as a not-for-profit online giving platform. In March 2012 it reached the £100m donations landmark from 2.5 million separate donations.
Launch: 2009
Number of users: More than 4,000 charities
Fees: £100 plus VAT one-off set-up fee. 2 per cent fee on donations and event fees. Card processing fee of 1.45 per cent, American Express and PayPal at 1.6 per cent
What the charity gets from a £10 donation (including gift aid): £12.15 (£12.14 for American Express or Paypal donors)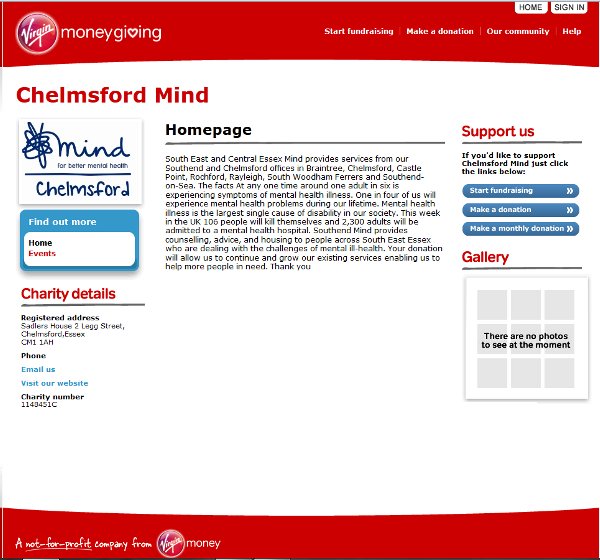 BT MyDonate
BT launched its own the subscription-free platform in April 2011 and by June it had more than 500 charity users. At the time of its launch social entrepreneur and author Robert Ashton accused BT of undermining JustGiving saying, "with the financial muscle available to BT they could have created something entirely new". Last December the Great Run series selected MyDonate as its preferred partner.
Launch: 2011
Number of users: More than 3,000 charities
Fees: Credit card processing fee 1.3 per cent or debit card processing fee 1.5 per cent. BT does not make any charges for its administration or transaction fees. The service is paid for as part of BT's community investment (at least 1 per cent of its pre-tax profits).
What the charity gets from a £10 donation (including gift aid): £12.37 (credit card donations), £12.35 (debit card donations).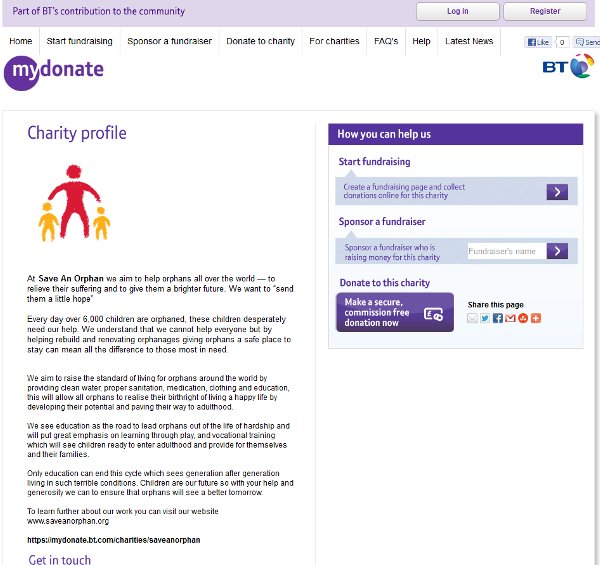 Some of the rest
There is no shortage of fundraising platforms – here is just a selection.
Global Giving UK
Global Giving started in the US before setting up a UK version and is a registered charity itself and also runs its own appeals. It is backed by the Department for International Development and the Nominet Trust. It supports grass-roots charities in the developing world by acting as an intermediary and providing online fundraising services as well as support to those organisations. It is able to claim gift aid on an organisation's behalf.
Launch: 2008
Number of users: So far it has helped 6,875 projects
Fees: 10 per cent fee on donation received (half goes towards covering card processing charges and the rest is used to keep the platform running). There are no set-up, monthly or ongoing fees.
What the charity gets from a £10 donation (including gift aid): £11.25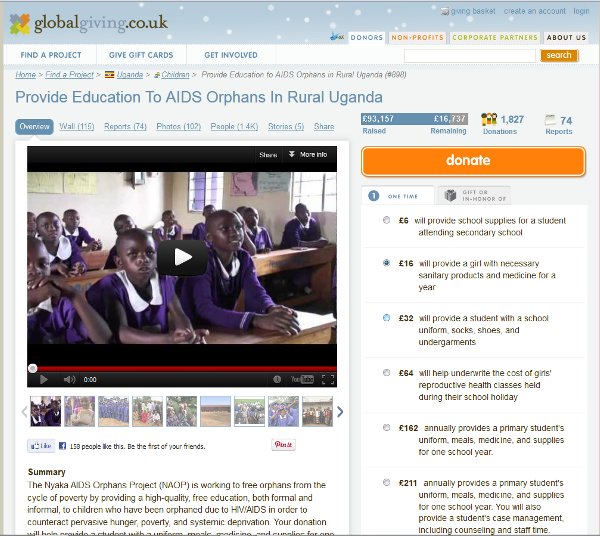 Localgiving.com
Localgiving.com was launched as a way for small local charities and community groups, including those that are too small to register with a regulator or HMRC, to raise money online either through one-off or regular donations. By the end of 2012 it aims to have covered the whole the UK. In 2012 it had success with match funding campaigns in partnership with the Office for Civil Society. Localgiving.com automatically claims gift aid for its users and passes it on.

Launch: 2008
Number of users: 3,065 charities
Fees: 5 per cent fee per donation to cover processing costs. Three months free trial then an annual fee of £60 plus VAT.
What the charity gets from a £10 donation (including gift aid): £11.87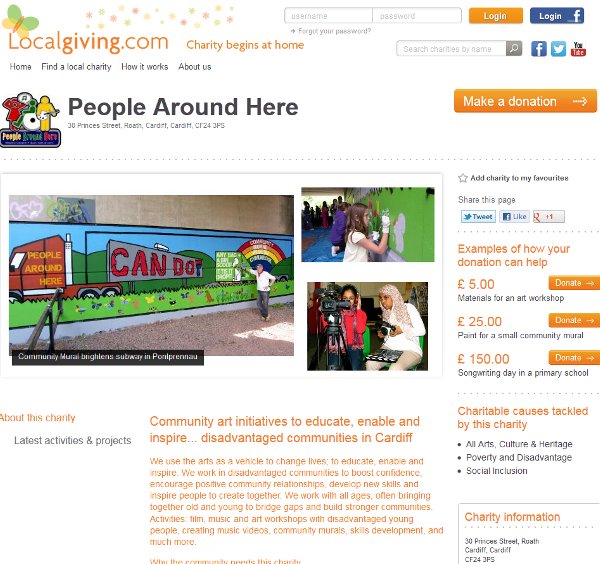 Ploink!
Individuals set up a Ploink! account and choose three charities they would like to support, charities have to by UK registered charities and already have registered with the platform (although if a user wants to support one that has not registered Ploink! will contact the charity in question). It is intended to be fun for users with a virtual piggy bank that they drag and drop coins into. Users can nominate charities to be the community's 'charity of the month'.

Launch: 2009
Number of users: 450
Fees: 10p per donation towards card processing costs. 10 per cent of the donation towards running costs. No set-up or monthly fees
What the charity gets from a £10 donation (including gift aid): £11.15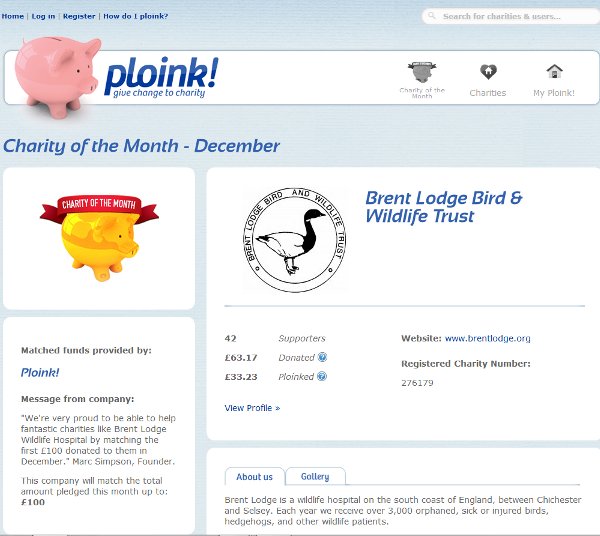 In numbers
Conclusion
You probably only need to sign up to one of the big three. As the only free option BT MyDonate might seem attractive, but value has to be measured against a number of other factors. If you have a big presence at the London Marathon, or are turned off by the idea of a monthly fee then Virgin Money Giving might worth considering. And although it's the most expensive option, JustGiving is still the one with the most users. Being able to integrate JustGiving data into your CRM could be a draw for charities looking to save time crunching data.

While the lesser known platforms are generally free from start-up fees, or as in the case of Localgiving.com offer a free trial, there are higher processing and admin costs. Ploink's 10p to cover credit and debit card costs appears excessively high and is twice the amount others say that it costs. There are some clear advantages of using a platform designed for the specific needs of a particular type charity, such as the ability to collect gift aid through Localgiving.com for charities too small to register with either the HMRC, the Charity Commission or OSCR.
Whatever you decide to sign up with always read the small print, and make sure your supporters know where to go to give to you online through links on your own site and social media feeds.