The ten local authorities in England with the most troubled families have signed up to a government payment-by-results scheme to turn these families around, with the assistance of the voluntary sector.
The £448m Troubled Families Programme aims to assist 120,000 problem households to get children back to school and adults back to work, and reduce youth crime and anti-social behaviour.
The funding has come from a number of government departments which have reallocated funds for this purpose: the Department for Education, the Home Office, the Department of Health, the Department for Work and Pensions and the Ministry of Justice.
A number of troubled families have been identified in each of the ten local authorities which will receive a payment of £4,000 per family when they meet a number of results criteria.
Birmingham is at the top of the list with 4,180 troubled families identified, using information available through a new data-sharing agreement between the Department for Communities and Local Government and the Department for Work and Pensions which allows job centres to share information with local councils. Birmingham will receive £13.9m of funds, while the next priority area, Lancashire with 2,630 troubled families, will receive £8.7m.
Funding and costs

The funding represents a buffer to councils to encourage intervention, but they will still have to pay the remaining 60 per cent of the average £10,000 per family cost of intervention. However the government advises that each family costs the taxpayer £75,000 annually through demands on service.
The voluntary sector will be utilised throughout the programme and Action for Children has added its support. Dame Clare Tickell, chief executive, said:
"This announcement reinforces the welcome commitment to support the most vulnerable families who face a whole host of challenges in their lives.
"Key to this is partnership working between local authorities and the voluntary sector, to create tailored solutions that tackle the root causes of issues within families and help them to develop the skills and confidence they need to make positive changes to their own lives."
The government hopes all 152 local authorities in England will sign up to the scheme. A representative from each was invited to a reception with the Prime Minister and representatives from the voluntary sector at Downing Street last night. Eric Pickles, Communities Secretary, said:
"The Prime Minister charged my department in December with delivering an ambitious but achievable programme to turn around the lives of 120,000 troubled families by 2015. We have met with 147 councils over the last three months to help shape our payment-by-results scheme which will incentivise local authorieis to deal with the truancy, crime and the worklessness that can be passed down from generation to generation and which puts a £9bn per year drain on the public purse," he added.
The following table shows the outcomes required to receive full Troubled Families Programme funding. Attachment fees are paid regardless of results being achieved or not: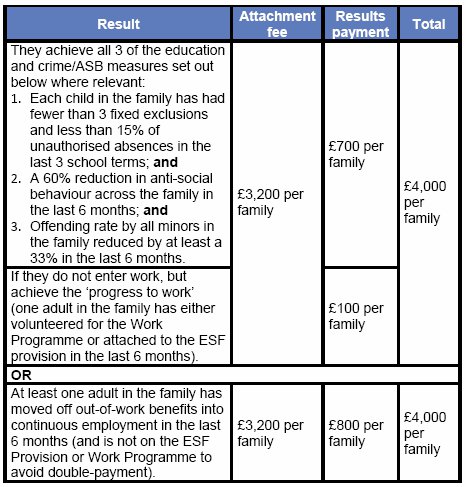 More on