Forty per cent of young people undertaking a six-month paid work contract through the Community Jobs Scotland scheme have gone on to enter full-time employment, independent figures reveal.
The Scottish Council for Voluntary Organisations (SCVO) launched the scheme last year with backing from the Scottish government and with Social Enterprise Scotland as delivery partner.
Under the programme 1,861 young unemployed people were placed in roles within 448 voluntary sector organisations across all of Scotland's 32 local authorities in the first year.
An independent evaluation of the service conducted by the University of Glasgow's training and employment research unit, found that following their placements some 40 per cent entered full-time employment and 51 per cent either found a job, went into training or education or took up volunteering opportunities.
Martin Sime, chief executive of SCVO hailed the programme a success: "The results speak for themselves. Investing in young people through the third sector works - it works for the young people who go on to find sustainable full-time jobs and it works for the sector whose capacity to deliver is being stretched like never before.
SCVO says the figures compares favourably to other similar work programmes, such as Work Choice which saw just 14 per cent finding jobs, and A4e's delivery of the heavily criticised Work Programme which saw just 3.5 per cent entering employment.
"The UK government can't afford to continue investing in punitive schemes like the Work Programme, including mandatory unpaid work, that are failing young people. It's time to focus spending on what we know works," said Sime.
How Community Jobs Scotland works

The participants worked a minimum of 25 hours per week and were paid at national minimum wage. 16 to 17-year-olds were placed in roles for nine months, while oler participants were placed for six months. Training and support were provided throughout the placements, supported by £750 of funding granted to the organisations for each employee. Employers were also given a maximum funding allowance of £6,175 per job to cover wages and National Insurance contributions as well as overheads and supervision costs.
A wide variety of jobs were filled by CJS employees with the majority entering either environmental/recycling work (364) or finance and admin (324). In comparison, just two roles were in fundraising, five in marketing and 21 in IT.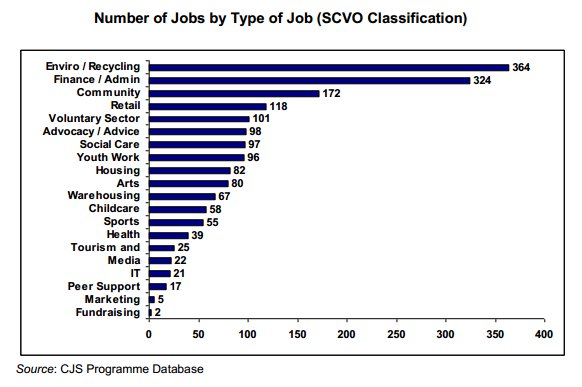 Most employers claimed during the evaluation that their motivation was to provide work experience or develop skills of the unemployed. But results show that the process was also beneficial to the employers themselves. The evaluation showed that some 81 per cent of contractors rated the scheme either good or very good for supporting the development of third sector organisations, with just 4 per cent rating it as either poor or very poor.
Ninety per cent of supervisors or line managers were satisfied or very satisfied withe their CSJ employees.
As a measure of the young employees interest in the voluntary sector itself, 73 per cent indicated that doing work that helps the community was an attraction factor in taking a CSJ role, while only 2 per cent indicated it was not an important factor.
Not all went to plan

While the majority of feedback was positive the evaluation highlighted some areas of improvement.
The programme had found 2,000 job opportunities for unemployed young people but a delay with the programme's start meant that a budget decision was made to cut off the opportunities at 1,861, rather than face a budget hangover into the next year. The University said that with 139 people missing out, "At a time of high youth unemployment, these are significant missed opportunities."
Further delays to the implementation of the training and employability support funding meant that some who did receive a placement did not receive their full training entitlement.
Next year

Looking forward to improving the programme for the next year, the University advised that a clear line of responsibility for helping CJS employees into employment after their placements should be made. "Employers and the Training and Employability Support contract provide employability and job search support but there is no specific job brokerage role. Given current labour market conditions, there is a need to ensure that CJS employees who cannot be kept on by their CJS employer are supported to find alternative sustainable employment," said the University.
SCVO will continue the programme for the 2012-2013 year. Building on the achievements of the 2011-2012 programme, the 2012-2013 programme hopes to significantly increase the number of 16 to 19-year-olds participating from 488 to 1,000. The Scottish government has agreed to support this aim.
In a recent strategy announcement on 'action for jobs' the Scottish government said: "The third sector is key to the Scottish government's response to rising youth unemployment and very well placed to work with young people at all stages of their journey into employment. From working with those young people at greatest risk of disengagement through to offering opportunities to those closest to the labour market, the sector provides a broad range of support."
The Employment Related Services Association (ERSA), Acevo and NCVO have this week launched a new guide to developing good relationships between prime and sub-contractors on government welfare to work contracts, such as the Work Programme. Click here to read more.