The issue of charity chief executive pay is to be examined by a committee of influential MPs, which includes two politicians who have already been publicly critical of charity executive pay.

The Public Administration Select Committee is inviting written evidence on the issue of salaries for chief executives in the charity sector, ahead of an oral session on the topic, currently scheduled for 17 December.
A PASC spokesman said the evidence session forms part of its ongoing work considering the regulation of charities.

However, two MPs who are members of the PASC, have already publicly been very critical of the levels of charity chief executive pay.

Conservative MP for Witham Priti Patel was integral to the start of a recent public debate on charity chief executive pay, sparked by a Telegraph story criticising executives at international development charities who earned over £100,000.

Patel helped the Telegraph journalist who wrote the story, Christopher Hope, compile the figures. And the Telegraph describes her as a "campaigner against boardroom pay excess among charities".

Sir Stephen Bubb, chief executive of Acevo, has suggested that there are political motives behind Patel's comments on charity chief executive pay in the press, suggesting that she is one of many MPs "on the right" who hate effective charities who campaign. "They particularly dislike international charities who have been so effective in raising the concerns of the world's poor."

But Patel has hit back, arguing: "The concerns which have been raised have nothing to do with 'MPs on the right'."

"There are some superb charities in my constituency and throughout the country that do outstanding work, often on a shoestring….The essence of the matter is that the public deserve to know that money given to charities in donations and by the taxpayer is spent in the most effective way possible, with charity bosses being held to account in an open and transparent way."

PASC member, Charlie Elphicke, Conservative MP for Dover and Deal, has also been publicly critical of charity salaries this year.
In August, he wrote a provocative analysis for the Telegraph, saying: "Think charity and you think of the volunteer rattling a tin, frontline work relieving poverty and vocation lined with compassion.
"You don't think of mega salaries, inflation-busting pay rises and bank-style bonuses. Yet in too many cases, this has become the culture of the charitable sector."

Elphicke has long been vocal on high wages in the charity sector. In 2011, at a PASC hearing, he moved Sir Stuart Etherington, chief executive of NCVO, to justify paying staff members salaries of over £80,000 while expecting to make 30 people redundant at the time, in a criticism of what he labelled "charity fat cats".
Elphicke has also recently welcomed an upcoming BBC Panorama investigation on charity chief executive pay revealed by civilsociety.co.uk this month. The BBC is still deciding whether the programme will air.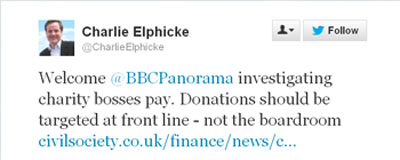 NCVO is currently leading an inquiry into charity chief executive pay, but it is not yet known whether a representative will give oral evidence to the PASC. A spokesman said the witnesses are still to be decided. Bubb has confirmed that he will give evidence.
Elsewhere, the issue of charity salaries has hit Ireland, with its national newspaper, the Independent, analysing charity chief executives who earn over 100,000 EUROS; a similar analysis took place in the USA this month too.