To whet the appetite of prospective entrants, we look here at the work of the Halo Trust, Overall Winner of The Charity Awards 2012, and how it performed against all ten Hallmarks of Excellence.
The Halo Trust took home the Overall Award in 2012 for its work clearing villages of landmines in Sri Lanka. After the Sri Lankan civil war ended in 2009, people displaced during the conflict began to make their way home and landmine casualties rose significantly. In response, the Halo Trust led a massive landmine clearance programme, which has seen over 100,000 landmines destroyed and allowed 190,000 people to go home safely.
This is how the Halo Trust met each of the Hallmarks of Excellence:
1. Leadership
Halo pioneered the concept of humanitarian landmine clearance 24 years ago. Since 1988 it has cleared over 13 million landmines and other unexploded war remnants, destroying around two and a half times more landmines than the next most effective agency, according to Landmine Monitor statistics.
In Sri Lanka, Halo realised early on that the government's data on the mine problem was wildly off the mark, and knew it needed to display strong leadership in pursuit of smart survey, mine clearance and developing national standards. Using its own robust, evidence-based survey techniques, Halo helped the government to correctly pinpoint the extent of the problem. Discussions were soon held at government ministry level about realistic ten-year plans for a mine-free Sri Lanka.
2. People development
Halo used a team of five expatriates to train 1,000 local staff, comprising 700 recent returnees (including 250 women), to conduct quality mine clearance in their own communities. Investing heavily in local leadership keeps the mine-affected communities integral to the process and employment with Halo provides a stable income in areas where permanent jobs are hard to come by. Deminers receive a month's training and then have opportunities for promotion as paramedics and team leaders. Rotation of international staff and annual cross-briefings result in the crossfertilisation of innovation, and means the most senior Halo people have unparalleled experience and expertise.
3. Planning
Halo uses skilled survey teams to identify and prioritise problem areas, followed by well-targeted, systematic mine clearance using manual and mechanical methods. An accurate survey is essential to correctly identify the minefields but in 2009 it was clear to Halo that the government's mine database exaggerated the size of the problem, meaning there was little credible data on which to build a national plan. Using its own reputable survey method, Halo helped the government to accurately define the problem and pave the way for proper planning. It was able to reduce the size of the land area to be cleared, from 537 square km to 255 square km.
Once the data was corrected, all work done was in support of the Sri Lankan government's plan to resettle 300,000 displaced civilians, prevent injury and return land to productive use. Minefields were selected for clearance based on prioritisation categories set out in the National Strategy for Mine Action and work plans were agreed with the Regional Mine Action Office prior to commencement.
However, the project teams remained responsive to events as they unfolded. There was consistent ad-hoc resettlement and Halo often had to adjust its priorities quickly to take account of circumstances. In one example, in May 2011 Halo was told about 40 families camped next to a hazardous field, waiting to resettle. Operations were started within two days, and the land was handed over by August 2011.
4. Innovation
Halo differs from most other mine action agencies in that Halo surveys are only conducted by senior Halo staff with mine-clearance experience. The charity has refined its survey methodology over 24 years of fieldwork and the charity's founder and director Guy Willoughby claims: "Our refined survey methodology has earned us an enviable reputation for accuracy." It uses a very tight and accurate evidence-based method of survey, known as 'polygon survey', which has significantly reduced the size of suspected hazardous areas around the world, dispelling the notion that the mine problem is intractable and paving the way for realistic and accurate planning for the elimination of the mine threat.
Where Halo uses machinery to improve the efficiency of the demining process, most machines are not specially built for demining but are instead simply modified agricultural machines. Willoughby says that "Halo is at the forefront of adapting, conceptualising and developing standard operating procedures for their use in demining applications."
5. Enterprise
Halo deploys as many deminers as funding will allow and central to this is the habit of replacing expensive international staff with local staff at the earliest opportunity. Halo operates on a ratio of around 200 national staff to one expatriate – a far higher ratio than has been achieved by any other demining operator, humanitarian or commercial.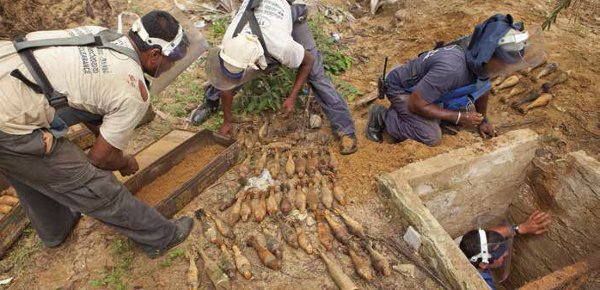 6. Learning
In its efforts to help the Sri Lankan government take responsibility for its National Mine Action Programme, Halo staff attend weekly coordination meetings with the National Mine Action Centre where they contribute experience gathered from international operations. The charity also led a survey workshop for staff from other demining agencies to improve the quality of mapping and reinforce the need for evidence-based decisionmaking in reporting hazards. And it provided training for the Sri Lankan Army's Humanitarian Demining Unit.
In 2011, Halo Sri Lanka was able to boost the productivity of clearance operations by 26 per cent after it introduced a more efficient team-based clearance drill which was developed by Halo in Cambodia. Lessons from the Sri Lankan programme's success will be shared with all Halo staff in order to improve all current and future Halo programmes.
7. Impact measurement
Overall success is measured by the protection of potential victims and the creation of safe conditions for their return home, as well as by the amount of land returned to productive use. Halo has an internal reporting system to monitor and evaluate performance output indicators. The system requires each of the minefield task supervisors to map, record and report on an individual and team basis the clearance rates and items found. Statistical achievements for every team are reported daily. Post-clearance analysis studies are done, calculating beneficiary numbers, economic outputs and noting declines in accidents. Individual case studies are compiled to communicate the transformational effects of mine clearance.
All Halo clearance tasks are subject to regular quality assurance visits by the Regional Mine Action Office, and a final inspection is carried out upon completion prior to the handover of the land.
8. Effectiveness
Halo's locally-trained deminers in Sri Lanka have found and destroyed over 108,000 anti-personnel mines, of which 70 per cent have been cleared since the end of the war in May 2009. By the end of 2011, Halo had cleared just over two million square metres of minefield, more in one year than had been cleared between 2002 and 2009. Says Willoughby: "While other methods have missed mines, and in some cases required Halo to re-clear ground, Halo's accuracy allows us to confidently hand over the land."
As of August 2011, UNHCR had recorded 78,984 people safely returned to the direct areas surveyed and cleared by Halo since August 2009. And 190,000 have returned to areas within Halo's areas of responsibility.
Over the last nine years, more than four million square metres of land has been cleared and is now used for school playgrounds, medical facilities, paddy fields, roads, houses and gardens, temples, and fishing jetties. On average, deminers found one mine for every 40 square meters cleared.
9. Accountability
Halo donors fund specific mining teams and receive regular detailed reports on the results achieved and the costs incurred by those teams. This transparent accounting system tracks money donated to results achieved, without co-mingling with other funds. It also lets Halo provide donors with clear objectives as to the amount of land to be cleared in their proposals, and for donors to make a clear assessment of the effect of the funds donated.
Halo Sri Lanka donors were given quarterly reports, the Halo website updated the public about achievements and beneficiaries were visited often for survey, prioritisation and land handover.
10. Sustainability
Halo's approach is that minefields left over from wars are a finite problem which, once solved, is solved for good. This allows sustainable development to begin and makes the country positioned for faster economic growth. In addition, the recording and reporting skills acquired by local staff will be able to be redeployed to help their country in other ways once the mines are gone.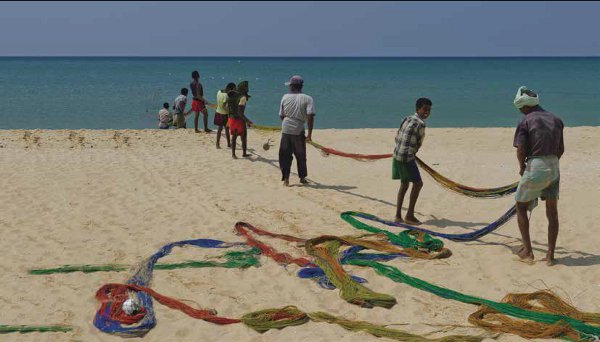 The end result of Halo Trust's work - people getting back to their normal activities on a beach safely cleared of mines. Image copyright belongs to Halo Trust