Breast cancer charities have hit out at Pancreatic Cancer Action's advertising campaign for using the slogan 'I wish I had breast cancer'.

Running with a print advert and TV commercial, Pancreatic Cancer Action's campaign aims to raise awareness of the poor survival rates for people with the disease by comparing it to other types of cancer with better survival rates. In doing so, however, it has attracted widespread criticism from organisations and individuals who say the campaign is divisive and insensitive.

Delyth Morgan, chief executive of Breast Cancer Campaign, said she was "shocked and saddened" by the advert. While raising awareness of the poor survival rates for pancreatic cancer is important, she said, "doing so in this way, Pancreatic Cancer Action has belittled the impact of other cancers".

"While the intention of the campaign is great, the adverts are hugely upsetting and incredibly insensitive and divisive," she said.

Breakthrough Breast Cancer responded immediately to the campaign on Facebook last night with a message from chief executive Chris Askew. In a full statement he said: "We strongly dispute any message which suggests that one type of cancer is preferable to another. We believe Pancreatic Cancer Action's recent campaign does just this.
"I've yet to meet a man or woman with breast cancer who would consider themselves in any way fortunate to have received a diagnosis."

He pointed out that 12,000 people die each year from breast cancer, compared to 8,000 from pancreatic cancer, and that more than 160,000 people died as a result of cancer in 2011. "We must avoid 'competition in cancer' and work together to stop this unacceptable burden," he said.

Breast Cancer Care's chief executive Samia al Qadhi said the pitting of cancers against one another was "unhelpful". She said all charities must do more to raise awareness of the signs and symptoms of the disease.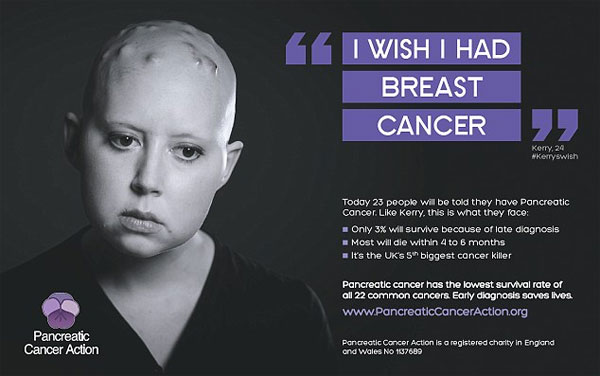 Breast cancer charities' reaction was 'stronger reaction than I anticipated'
Pancreatic Cancer Action's founder, and survivor of the disease, Ali Stunt, has defended the campaign's message, saying that it was based on her own personal experience.
"[Wishing I had breast cancer] was exactly how I felt when I was first diagnosed with pancreatic cancer, with a 3 per cent survival rate. Even without knowing the figures I knew breast cancer had a much higher survival rate, and I wished that if I had to have been diagnosed with cancer it was one with better outcomes."

Stunt added that she hadn't expected the campaign to ignite such fierce debate, and told civilsociety.co.uk: "I thought the campaign would be a little bit controversial, but the breast cancer movement's reaction has been a lot stronger than I anticipated.

"I understand that if you just look at the headline it's quite shocking, and I'm sorry to anyone's who has been upset by it, but you have to read on. We are not trying to pit one cancer against another – the campaign features real people who really wished they could swap pancreatic cancer for another."

Not everyone has been critical of the campaign, Macmillan Cancer Care has voiced its support.

Joint chief medical officer, Professor Jane Maher, said that pancreatic cancer survival rates were particularly bad, and added early diagnosis was both difficult and very important.
"I hope this campaign will help more people to recognise those early signs and encourage them to visit their GP if they have any concerns," she said.
More on