The number of charities who manage their investments in line with their mission has substantially increased in the last five years, up to 59 per cent from 23 per cent of surveyed charities, according to research out today.
The report, Intentional Investment: The Principles, Practicalities and Pitfalls, which has been published by the Association of Charitable Foundations (ACF) and Cazenove Charities, says that "reflecting a charity's mission, values, or wider social concerns in its investment strategy has become a mainstream practice". The report aims to help charities assess whether they can, and how to, develop a charity's investment strategy with its values and aims in mind.
The research, which centres round a survey of 286 charity investors, as well as a number of focus groups and individual interviews, looks at the main reasons for this shift and the type of investment policy most commonly adopted.
The survey was undertaken by ACF and Cazenove Charities at the end of 2014, with the cooperation of Charity Finance Group and the National Council for Voluntary Organisations. Over 80 per cent of survey respondents were grant-makers, and just under 80 per cent cited investment as their primary or secondary source of income.
'Investment landscape is changing'
Kate Rogers, co-author and head of policy at Cazenove Charities, said: "The findings of the report demonstrate that the investment landscape is changing and that connecting mission and aims with investments doesn't have to mean sacrificing returns. In deciding what, if any, approach to take, charity investors have to weigh up a number of practical considerations.
"Only trustees can be expert in what their charity needs and it is up to them to partner with an investment manager that can effectively support and achieve their objectives, enabling them to maximise charitable benefit through the use of all of their assets."
The survey found that 59 per cent of charity respondents had decided to manage their investments to reflect their charity's values, objectives or wider social goals.
Respondents who were dependent on public appeals for their income were much more likely to have an investment policy that reflected the charity's values than those who had "independent" incomes derived from investments.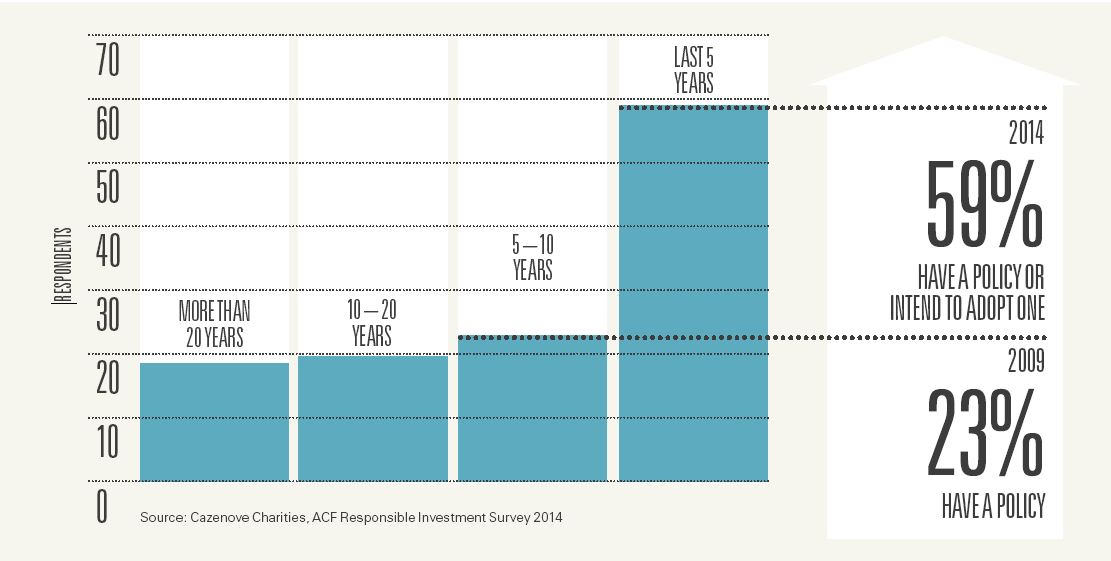 The survey also found that those charities with a purpose focused on religion and promotion of faith were most likely to invest with its mission and values in mind, with 87 per cent having a responsible investment policy. This was followed by charities whose purpose is peace and conflict resolution, with 80 per cent having a responsible policy.
The charities surveyed who were least likely to have a policy were those with a purpose in science and technology, with only 27 per cent having a responsible investment policy.
The research also looked at the main reasons to adopt a policy of managing their investments in ways "that explicitly reflect their charitable missions or values". It found that the most popular reason for adopting a policy is to avoid conflict with the charity's aims, with 65 per cent stating that as the reason. Another 53 per cent that the reason to adopt a policy was to avoid investments that are detrimental to society.
Mission doesn't require a policy

When asked the reasons for not adopting a responsible investment policy, 53 per cent of those who did not have one said it was because their mission did not require one. And 39 per cent said it was because it would restrict their options. Only 9 per cent said that these were reasons relating to cost.
Respondents identified a number of drivers for the increased uptake, which included younger trustees and the shifting tide of public opinion.
The report also states that changes to the investment management industry has also led to an upturn in both the amount of information available and the number of investment products on the market.
It identifies four main behaviours to connect mission and aims to investments, which are exclude, select, influence and deliver.
Of those surveyed, 78 per cent with a policy were excluding specific industries or companies from their investment, with tobacco the most common exclusion. In contrast, 34 per cent were deliberately investing in industries that rated well in terms of environmental, social or governance (ESG) factors, 22 per cent were seeking to influence corporate behaviour by using share voter rights, and 17 per cent were looking to deliver mission related outcomes through social investment.
Advocate intentional investment
Richard Jenkins, co-author and head of policy at ACF said of the report: "While the trend is clear, the report also shows that there is no 'one-size-fits-all' approach that is right for every organisation.
"With that in mind, the report advocates intentional investment, which means that trustees have thought about the management and use of their charity's assets so that their approach supports the delivery of their charitable aims. They are able to explain their approach and, as far as possible, anticipate and review the impact of their decisions in terms of their mission and values, beneficiaries and supporters."
The full report will be available online to ACF members.