Medium-sized charities have grown at a slower rate than larger organisations since 2015, according to new research.
Charity Finance magazine, published by Civil Society Media, found that charities with an income of over £10m in 2015 grew their income to 2017 by a median rate of 7.68 per cent.
Using figures not adjusted for inflation, this compared to a median increase of 4.45 per cent between 2015 and 2017 for charities with an income of between £500,000 and £10m.
Looking closer at the middle income charities, those in the £500,000 to £1m bracket increased their income by 4.06 per cent, £1m to £5m charities increased their income by 5.80 per cent, and £5m to £10m charities' incomes rose by 2.13 per cent.
To do the research, Charity Finance used the full Charity Commission database of charities with an income of more than £500,000 for their accounts filed in 2015, and then extracted a sample based on the 581 charities with names that begin with the letter "A".
It did this to test the assumption that since the economic downturn, larger charities have been growing faster than medium-sized and smaller ones.
While other research has been done on this topic, the methodology used is often flawed as it tends to take annual snapshots of each income band, which can be misleading as the charities within those bands change.
The overall changes in income in the different bands, adjusted for inflation and rebased to 1000, that Charity Finance found can be seen in the charts below.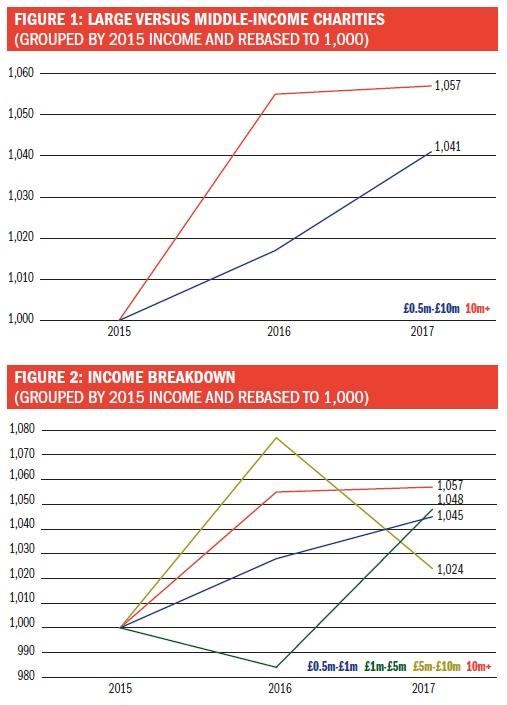 Subscribers to Charity Finance can read the full article online here.
More on